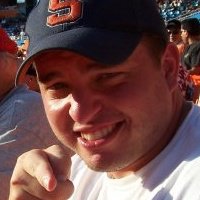 | | |
| --- | --- |
| Date of Birth | December 26, 1977 |
| Date Deceased | July 31, 2022 |
| Hometown | Miami |
| Home State | FL |
| Service Date | August 6, 2022 |
| Service Time | 11:00 a.m. |
| Service Location | Dansville Presbyterian Church |
Ryan C. Penta
MIAMI, FL – Ryan C. Penta, 44, passed away suddenly at his mother's home in Arkport on Sunday (July 31, 2022).
Born in Dansville on December 26, 1977, he is the son of the late Robert Penta and Darla (Goho) Kennell.
Ryan was a graduate of Dansville Senior High School class of 1996. He continued with his education and was a graduate of Syracuse University class of 2000.  He furthered his scholastic journey as a graduate of the University of Miami School of Law in 2003 and remained living in the Miami area.  He was a trial lawyer, in the greater Miami-Dade area, owning his own firm, Penta Law.
Ryan was a member of the Florida Bar Association, a Board-Certified Civil Trial Lawyer, a member and Elder of the Central Presbyterian Church of Miami, and a youth coach at Roberto Clemente Park.
His hobbies included all sporting events, he was a season ticket holder for the Miami Hurricanes.  He also enjoyed going to the casinos.  He will be remembered for being very outgoing, he could walk into a room with 100 people and would walk out with 99 new friends!
He is lovingly survived by his mother & step-father, Darla (Dick) Kennell, of Arkport; Brothers, Dylan Penta of Pennsylvania and Josh Penta of Arkport; Stepbrothers, Carlton Kennell of Connecticut and Kevin (Fay) Kennell of Geneseo; Nephew and Nieces, Jacx Penta, Estelle Penta, Olivia Kennell, Emily Kennell, Gabrielle Kennell; Grandfather, Clifford Goho of Dansville; many aunts, uncles, and cousins; and his Miami family, the Cordero's.
Besides his father, he was predeceased by his maternal grandmother, Sue Goho; Paternal grandparents, Robert & Frances Penta; and stepbrother Chris Kennell.
Calling hours are 3 p.m. to 7 p.m. Friday (August 5, 2022) at Chamberlin–Baird Funeral Home, 73 Main Street, Dansville, NY.  The service will be held on Saturday (August 6, 2022) at Dansville Presbyterian Church, 3 School Street, Dansville, at 11 a.m., with the Reverend Bruce Incze officiating.  The service will be live streamed and may be seen on the Facebook page of Bishop-Johnson & DeSanto Funeral Home (click link for live stream) for 30 days beginning at 11 a.m. Saturday (August 6, 2022).
In lieu of flowers, those wishing may contribute in his memory to the Robert Clemente Park, 101 NW 34th Street, Miami, FL 33127.  Envelopes for memorial contributions will be available at the funeral home.
The Bishop-Johnson & DeSanto Funeral Home, 285 Main St., Hornell is honored to assist Ryan's family with the arrangements.
Online condolences or remembrances of Ryan are welcome in the comment section below or on the Facebook page of Bishop-Johnson & DeSanto Funeral Home.
Subscribe to receive updates