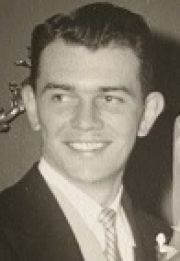 | | |
| --- | --- |
| Date of Birth | February 17, 1930 |
| Date Deceased | March 24, 2020 |
| Hometown | Prattsburgh |
| Home State | N.Y. |
| Interment Location | Prattsburgh Communtiy Cemetery |
William Lawrence (Thomas) Gettings
William (Bill) Gettings passed away peacefully on Tuesday (March 24, 2020) at the age of 90.
Born February 17, 1930 in Jamaica Queens, NY, Bill was a proud Marine, serving during the Korean War. He was honorably discharged from the United States Marine Corps Reserves in 1959.
Bill had a dynamic personality and early on found his vocation as a salesman. His charm, amazing command of the English language and confidence worked perfectly in convincing a young, beautiful, aspiring NYC model, Joyce Claire Lenjou, to marry him. He often said, 'she could have married anyone she desired, but I was lucky enough to be the one'; they married in Flushing NY in 1954. As an only child, Joyce's family quickly became his, with wonderful family gatherings and trips to Long Island occurring throughout the years. Joyce was the love of his life for over 55 years, predeceasing him in 2007, after which his world was never quite the same.
Bill's sales job with Jostens took him and his young family from Massachusetts to Prattsburgh, NY in the summer of 1968. It was a 100-year-old Victorian in a sleepy little village that called Joyce's name; it was there they decided to call home for over 30 years. During that time, they owned and operated a liquor store in the 1970's, were active participants in the community, with Bill working the final 20 years of his career in town as a mail carrier for the USPS. Although never quite losing their New York accents, they proudly considered themselves 'locals', enjoying Prattsburgh as their home until retiring to Florida full time in early 2000. .
A fiscally conservative Republican, Bill loved any opportunity to participate in spirited political discussions. He worked hard to convince others to adopt his view; even if it meant resorting to quoting Alexander Hamilton when things got heated! His loud, bold voice was recognizable to all and unapologetically all his — never hesitating to shout out a 'hey babe, how are you!' to someone he knew on the street (even after political correctness would have dictated otherwise!). He was wise beyond his education, kind, always and the life of the party.
Family meant everything to Bill. He is survived by his three children, Tracy Perkins (Ron), Michael Gettings (Tina) and Cary Gettings Muggleton (Christian Marble). Grandchildren, Matt and Christina Perkins, Brandi Gettings Owensby (Will), Jesse and Kara Gettings, Ryan, Andrew William and Rachael Muggleton, Kristin Trinh Heins (Samson), Adam (Korey), Zachary (Fawn), Amberley, and Ileya Heins, several great grandchildren and sister-in-law, Jeanne Radke.
The Avoca Funeral Home, 22, N. Main St., Avoca is honored to serve the family of William Lawrence (Thomas) Gettings.
There will be no callings hours, a private burial will take place at the Prattsburgh Community Cemetery at the convenience of the family.
Online condolences or remembrances of Bill are welcomed on the Facebook page of Bishop & Johnson Funeral Home, Inc.
Subscribe to receive updates