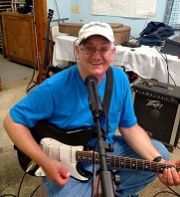 | | |
| --- | --- |
| Date of Birth | February 10, 1956 |
| Date Deceased | August 13, 2021 |
William David Woodworth
William David Woodworth, 65, joined the angels in heaven on August 13, 2021. Bill was born in Hornell NY to Merle H. and Ellamae (Combs) Woodworth. Bill lived most of his life in the Steuben County area however he did live for a short time in Florida and loved it there. In his younger years Bill was an avid hunter and loved being outdoors. He also enjoyed "tinkering on" and fixing vehicles of all kinds. He was a welder by trade and did this until he retired. Other than his family Bill's biggest passion was his music. He loved to play and sing music for anyone who was willing to listen and his beautiful voice was enjoyed by so many. He loved playing music with his brothers and sisters and as they got older his youngest son and nieces and nephews.
Bill is survived by his children Nichole M. (Richard) Santacroce, David S. (Tara) Woodworth and Clayton J. (Heather) Woodworth, his grandchildren Bryce M. Santacroce, Shane O. Woodworth, Ella R. Woodworth, Annabel G. Woodworth, Marcus W. Woodworth and John Alderman. He is also survived by his siblings Patricia Baer, Merle (Debbie) Woodworth, Jerry (Faith) Woodworth, Helen (David) Storms, Connie (Gerry) Force, Kathryn (Reginald) Rice, Lorrie (Jeffrey) Wallace, Ellie Johnson, April (Kelly) Rogers and his special friend Sheila Wagner. Bill also had so many nieces and nephews that he loved and adored along with several extended family members.
Bill is predeceased by his parents, his siblings James C Woodworth and Daniel, Mary and Rachel Woodworth, brother in law Marvin Baer, his nephews Edward (Biff)Colburn, and Kasey Rice and his oldest grandson Triston Scott Santacroce.
There will be a Celebration of Life held to honor Bill on August 28 2021. Location will be announced at a later date.
The LaMarche Funeral Home, 35 Main St., Hammondsport is honored to assist Bill's family with the arrangements.
Subscribe to receive updates