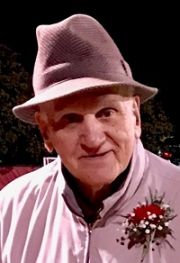 | | |
| --- | --- |
| Date of Birth | December 20, 1927 |
| Date Deceased | May 5, 2022 |
| Hometown | Hornell |
| Home State | N.Y. |
| Service Date | June 4, 2022 |
| Service Time | 9 a.m. |
| Service Location | St. Ann's Church, Hornell |
| Interment Location | St. Mary's Cemetery, Town of Fremont |
William Alexander "Chop" Argentieri
HORNELL-William Alexander "Chop" Argentieri, of Hornell, NY, died Thursday (May 5, 2022), after a short illness and surrounded by his loving family.
A native and lifelong resident born on December 20, 1927, he was the son of the late Silvino and Dorothy (Feeney) Argentieri. Chop was a graduate of St. Ann's School and a member of the Class of 1945 of Hornell High School. After graduating from Alfred University in 1949, he attended the University of Buffalo Law School, receiving his Juris Doctor degree in 1952. He then went on to serve in the United States Army, returning to Hornell in 1954, where he practiced law for over forty years.
He was married on November 28, 1959, to Dorothy Ormsby, daughter of Guinevere and Rowland Ormsby of Alfred Station. Bill and Dorothy raised their three children, Judy, Matt, and Kate, in Hornell, later moving to Alfred, where they resided until Dorothy's passing in 2012. Bill returned to Hornell in 2014, remaining there until his death.
Bill/Chop/Dad/Papa was a man of many experiences and interests. As a young man, Chop worked at Argentieri's Meat Market with his father Silvino and his brothers, where he received his nickname "Chop Argentieri" for his work behind the counter. In high school, he ran track and played football and basketball, later being admitted to the HHS Sports Hall of Fame. His athletic success at HHS got the attention of the coaches at Alfred University where he ultimately received a total of 12 varsity letters: 4 each in football, basketball, and track. In 1975, in recognition of his athletic accomplishments, Bill was selected to be a member of the first ever class inducted into the Alfred University Athletics Hall of Fame.
Bill loved being active. He continued to play recreational basketball at the YMCA until his 60s. He swam and played golf regularly until his late 80s.
After Bill and Dorothy began raising their family, being Dad became his favorite pastime. He was always there, whether it was a football game, basketball game, soccer game, cheerleading event, piano recital, parade, band concert, etc., while spending summers at Loon Lake with his family. He served as attorney for the Hornell Board of Education for many years. He was also a member of several local organizations that included: Our Lady of the Valley Parish, the Hornell Association, the Elks Club, the American Legion, the Knights of Columbus, and the Sons of Italy Carducci Lodge.
Along with being a great community and family man, Chop was an avid Buffalo Bills fan, having season tickets for over 30 years. Along with their Buffalo Bills, he and Dorothy cheered on their fave New York Yankees together. Their passion was contagious, making Bills and Yankees fans of their children and -yes- even their midwestern grandchildren!
And as almost everyone in Hornell knew, Dad was a devoted parishioner of St. Ann's Church his entire life. Consequently, whenever Dad missed daily mass, which wasn't often, people checked in to make sure all was well. In his later years, after church he usually could be found at Billy Schu's, the Texas Café or – most likely – Wegmans as he made his daily rounds. Newspaper sales may never recover!
He loved people, finding the good in everyone. As his family has often noted – he never knew a stranger. His children, grandchildren and sons-in-law knew and loved that about him as he charmed their friends and in-laws from Hornell to Chicago to Crystal Lake to Champaign. He truly was one of a kind. Oh, how we will miss him!
Bill was preceded in death by his brothers, Robert Argentieri, his wife Ginny Argentieri; Francis Argentieri; James Argentieri, his wife Phyllis Argentieri; and Mary Agnes (Argentieri) Crosby and her husband Donald Crosby. In addition, he was preceded in death by his in-laws, Heinz Zydor and Adele (Ormsby) Zydor; William Richard Brown and Alberta (Ormsby) Brown; Elizabeth (Ormsby) Hall; Rowland Ormsby and Guinevere Ormsby; and Robert Rink. His son-in-law, Benjamin Watts, and nephew Patrick Argentieri also preceded him in death.
Surviving are 2 daughters, Judy Argentieri of Champaign, IL, and Kate (Kevin) Nawracaj of Crystal Lake, IL; a son, Matt, of Hornell; 6 grandchildren: Olivia Watts, Samuel Watts, Ella Nawracaj, Ethan Nawracaj, Elise Nawracaj and Evan Nawracaj; sisters-in-law Mary Ann Argentieri and Eleanor Rink; brother-in-law, William (Teddy) Ormsby; and many nieces, nephews, and cousins.
Calling hours are 5-8 P.M. Friday (June 3, 2022), at the Bishop-Johnson & DeSanto Funeral Home, 285 Main St., Hornell. Relatives and friends are invited to join his family at St. Ann's Church, 31 Erie Ave., Hornell where a Mass of Christian Burial will be celebrated at 9 a.m. Saturday (June 4, 2022). Committal prayers and interment will follow at St. Mary's Cemetery, Town of Fremont.
The United States flag and the Army flag will proudly fly at the Bishop-Johnson & DeSanto Funeral Home in recognition of Bill's military service.
In lieu of flowers, those wishing may contribute in his memory to St. Ann's Church of Our Lady of the Valley Parish, 27 Erie Ave., Hornell, NY 14843 (envelopes will be available at the funeral home), or to a charity of the donor's choice.
The Bishop -Johnson & DeSanto Funeral Home is honored to assist Bill's family with the arrangements.
To leave your own personal remembrance or condolence you may click on the link below or visit the Facebook page of Bishop-Johnson & DeSanto Funeral Home.
Subscribe to receive updates