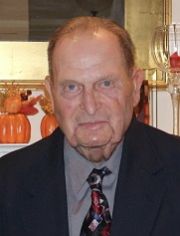 | | |
| --- | --- |
| Date of Birth | January 31, 1935 |
| Date Deceased | July 30, 2021 |
| Hometown | Hornell |
| Home State | N.Y. |
| Service Date | August 9, 2021 |
| Service Time | 10 a.m. |
| Service Location | St. Ann's Church, Hornell |
| Interment Location | St. Mary's Cemetery, Town of Fremont |
Thomas Anthony Hoeffner
HORNELL Thomas Anthony Hoeffner, 86, of Main Street, passed away Friday morning (July 30, 2021) at St. James Hospital in Hornell.
He was born January 31, 1935 in the borough of Little Neck on Long Island to Phillip N. Hoeffner and Theresa M. (Wulforst) Hoeffner. While living on Long Island, Tom attended preschool 94 in Queens, NY. Tom learned to be resilient from an early age. He not only contracted and survived scarlet fever, but was also kidnapped from his home as a small child. Thankfully he was found and returned safely. In 1940 Tom's family was forced off their family farm and relocated to Fremont, NY. At the tender age of seven Tom lost his father and began working on the farm. Tom loved to be outdoors and hunt even after a hunting accident. For many years he hosted friends and family from down state during the hunting season.
In 1953 he graduated from Arkport Central School. After graduation he worked on the family farm and during this time he was drafted, but made the decision to enlist in the United States Marine Corps on June 20, 1957. He served in the 2d Battalion (reinforced), 2d Marines, and 2d Marine Division. Tom was recognized for his leadership ability and received a certificate of achievement for his coordination, resourcefulness, and diplomacy in securing vital installations in Beirut, Lebanon. He bravely served his country and was honorably discharged as an E-4 Corporal on June 19, 1963.
Tom was a devout Catholic and member of St. Ann Parish in Hornell. On November 5, 1966 he married Ann Marie Robbins. They began their lives on Main Street where they raised their three sons, Gerald, Stephen, and Thomas.
Tom continued to work on the family farm in partnership with his brothers on the land in New York and Virginia. He was a hard worker and a good provider. He also worked briefly for S.J. Groves & Sons Construction and Morton Salt Company to provide extra income for his family. At the age of 53, Tom was gravely injured in a farming accident and lost his oldest son in the late 80's. Even with all of the hardships he faced in life, Tom persevered and remained faithful and tender hearted. He took care of his family along with his mother and sister until the time of their deaths.
As his brothers retired, Tom found himself taking ownership of the family farm. Wanting to carry on the family legacy, Tom turned to his son, Stephen. For the last 35 years they have shared the work and love for the land. Tom never hesitated to help a fellow farmer or friend in need with plowing, planting, cultivating, harvesting, grating, loading potatoes, or lending equipment all over Steuben, Livingston, and Wyoming counties in NY, as well as in the Eastville, VA area.
Tom will be remembered as a devoted husband, loving father and grandfather, son, brother, uncle, generous friend, and faithful servant. He was a proud Marine. He was a hard worker, as well as one of the toughest, strongest, and smartest men. Despite his rough exterior, he was a kind and tender hearted man. These characteristics made people compare him to John Wayne.
He was preceded in death by his son, Gerald Paul Hoeffner, parents Phillip and Theresa Hoeffner; brothers, Phillip H. Hoeffner, Robert A. Hoeffner, and George J. Hoeffner; sisters Marion M. Dorfer, Irene E. Briggs, and Theresa C. Hoeffner.
He is survived by his loving wife of 55 years Ann Marie (Robbins) Hoeffner, his two sons and their families: Stephen Robert and Ann (Horan) Hoeffner and children: Stephen Robert, James Thomas, and Jackson George Hoeffner of Hornell. Thomas Anthony II and Heather (Thompson) Hoeffner and children: Graham, Layla, Jolie, and Thomas Anthony Hoeffner III of Horseheads. He is also survived by three sisters, Helen M. Burke of Hornell, Emma J. Potter of Oklahoma, and twin sister, Josephine C. Donoghue of Rochester along with several nieces and nephews.
The family would like to thank everyone from the bottom of our hearts for all of the calls, texts, food, and for just being there to reminisce with us with all of the wonderful memories. It is times like these that make us so thankful for our small town family that helps us through the loss of our devoted husband, loving father, Papa Tom, Papu, and grandpa. We would also like to thank the Hornell Fire Department for always coming day or night when we needed help. "Heaven just got a little better and our world a whole lot worse because they don't make them like Tom Hoeffner anymore."
Calling hours are 1-3 p.m. Sunday (Aug. 8, 2021) at the Bishop & Johnson Funeral Home, Inc., 285 Main St., Hornell. Relatives and friends are invited to join his family at St. Ann's Church, 31 Erie Ave., Hornell where a Mass of Christian Burial will be celebrated at 10 a.m. Monday (Aug. 9, 2021). Committal prayers and interment, with military honors, will follow at St. Mary's Cemetery, Town of Fremont. The services will be live streamed and may be seen either on the homepage of www.bishopandjohnsonfuneralhome.com (please see link for live stream) or on the Facebook page of Bishop & Johnson Funeral Home, Inc. for 30 days beginning at 10 a.m. Monday (Aug. 9, 2021).
The United States flag and the Marine Corps flag will proudly fly at the Bishop & Johnson Funeral Home, Inc. in recognition of Tom's military service.
In lieu of flowers, those wishing may contribute in his memory to either the Hornell Fire Dept., 110 Broadway, Hornell or to St. Ann's Church of Our Lady of the Valley Parish, 27 Erie Ave., Hornell, NY 14843. Envelopes for memorial contributions will be available at the funeral home.
The Bishop & Johnson Funeral Home, Inc., in Hornell is honored to assist Tom's family with the arrangements.
Subscribe to receive updates