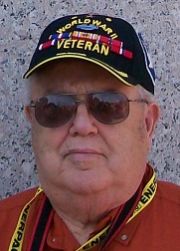 | | |
| --- | --- |
| Date of Birth | June 5, 1926 |
| Date Deceased | December 25, 2020 |
| Hometown | Bath/Avoca |
| Home State | N.Y. |
| Interment Location | Valley View Cemetery, Avoca |
Stanley Willis Sager
BATH/AVOCA-Stanley Willis Sager of Bath, N.Y was reunited with the love of his life on Friday (Dec. 25, 2020). His beloved wife, of almost 65 years, Helen Irene Sager, died Oct. 10, 2014 and Stanley has spent the last six years talking about how much he was looking forward to seeing her in heaven. Stanley died at age 94 of pneumonia after a brief hospital stay for a broken femur.
Stanley was born in Avoca, N.Y. on June 5, 1926, he was the son of the late Augustus "Gus" Sager and Lela Partridge Sager. Besides his parents he was predeceased by his sisters, Delores Julian and Beverly Thorson Nelson.
Stanley served during WWII as an Army Sergeant and was a machine gunner assigned to the 1st Cavalry's 158th Regiment "Bushmasters". He was stationed in New Guinea, Manila, the Philippines and later in Japan. Stanley was very proud of having been awarded the Bronze Star Medal for exemplary conduct in ground combat against the armed enemy during WWII.
On February 3, 1950 Stanley married Helen Irene Bennett which was the start of their long love affair and their family of three children; Linda Sager of San Antonio, Tex., Deborah (Edward) Lyons of Pine Grove, Calif. and Steven (Kandy) Sager of Sahuarita, Ariz., and their granddaughter, Amanda (James) Denton and great-grandchildren, Wyatt, Adeline, Carter, and Aubrey of San Antonio, Tex.
Stanley had a long career with Metropolitan Life Insurance Company working out of Hornell, N.Y. A profession that suited his gregarious nature allowing him to meet and get to know many families throughout the Avoca Township.
In October of 2010, Stanley was able to participate in Honor Flight Rochester, whose mission was to fly every WWII Veteran from the New York area to see "their own" memorial. Stanley traveled with his son, Steven, to view the WWII Memorial, and the Korean, Vietnam and Lincoln Memorials and witnessed the changing of the guards at the Tomb of the Unknown Soldier. Stanley was quoted to have been overwhelmed by how wonderful he and his fellow veterans were treated on their visit and how important and memorable the experience was to him. Stanley was also very proud of his granddaughter, Lt. Colonel Amanda Denton, for her continued service in the United States Air Force since 2002.
Stanley was very close to his sisters, Delores and Beverly, and he was always ready to "throw a party" to celebrate family milestone events and holidays with his sisters, their spouses and children. Stanley remained close to his nieces and nephews; Neal, Bonnie, Lynn, David, Michael, Michele, and Melinda, always enjoying their visits and phone calls. Stanley also greatly appreciated his Jackson, Calif. home-care provider and friend Amiee Jensen-Rye.
Stanley will be buried next to his beloved Helen at the Valley View Cemetery in Avoca, N.Y. Due to concerns with traveling to New York at this time due to the Coronavirus, the family will host a memorial with military honors later around Stanley's birthdate in early June of 2021. Information for the memorial will be shared at a later date or contact Steven Sager at sksager@hotmail.com. In lieu of flowers, please consider a donation to the Honor Flight Network, 4601 N. Fairfax Drive, Suite 1200, Arlington, Va. 22203 (www.honorflight.org) in memory of Stanley.
The Avoca Funeral Home, 22 N. Main St., Avoca is honored to assist Stanley's family with the arrangements.
Online condolences or remembrances of Stanley are welcomed on the Facebook page of Bishop & Johnson Funeral Home, Inc.
Subscribe to receive updates