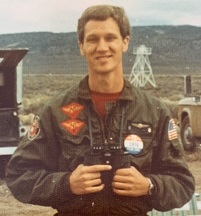 | | |
| --- | --- |
| Date of Birth | August 11, 1947 |
| Date Deceased | July 20, 2023 |
| Hometown | Hornell |
| Home State | N.Y. |
| Service Date | July 29, 2023 |
| Service Time | 11 a.m. |
| Service Location | Bishop-Johnson & DeSanto Funeral Home |
| Interment Location | Greenlawn Cemetery, South Dansville |
Ronald Vincent Faulkner
Ronald Vincent Faulkner, Hornell, NY, traded his pilot wings for heavenly wings on July 20, 2023.
Ron was born August 11, 1947, in North Hornell, NY to loving parents Vincent and Onalee (Helmer) Faulkner who predeceased him.  Growing up on the family farm, he was dedicated to the responsibilities and work that family members shared, always doing his part and more.
Ron was a member of the 1965 class of Arkport Central School.  He continued his education at Corning Community College where he graduated with honors in 1967.  Knowing he would soon be drafted, Ron enlisted in the US Marine Corps in 1968.   Ron's excellent math and science knowledge provided him the opportunity to be trained as a flight navigator.  He flew trans-oceanic and trans-continental flights.  His love of flying was soon entrenched.  Ron served a four-year tour of service as a Marine including life impacting time in Vietnam.  When discharged, Ron, now passionate about flying, enrolled in Embry Riddle Aeronautical University.  He rapidly obtained pilot certification in many categories and graduated with honors.
Ron moved to Alaska.  While working for Alaska Central Airways he honed his piloting expertise during the construction of the Trans-Alaska Pipeline.
It May of 1977 Ron was in a tragic motorcycle accident which left him not only blind but clinging to life with severe injuries.  This of course was a most difficult time.  Ron endured many surgeries, months of healing, rehabilitation, and uncertainties.  It was a period of readjustment.  Strong willed and determined, Ron learned a new life as a blind man.  He went back to work continuing in aeronautics as the airport planner for the State of Alaska.
Focused and driven, Ron bought 6 acres of land, cleared an area of trees with a chainsaw, and oversaw construction of his first house.  Utilizing and capitalizing on woodworking skills he learned in rehabilitation, Ron built customized cupboards, window frames, doors, and all else he needed for comfortable living.  In 1999 he sold this house, moved back to his roots in NYS and built a new home complete with even more unique and beautiful wood projects.  Never to be deterred by lack of sight, Ron was an avid traveler.  He journeyed solo to many areas of the world including making several trips to Australia.
Ron's great ambition was to serve his God.  He sought the Lord's guidance and faithfully embraced his calling to discipleship.  He used opportunities as they were presented to him to share and lead others to faith.  Ron cherished the special bonds of fellowship and relationships he made while doing the Lord's work.
Ron will be greatly missed by his family and friends for his intense faith, his knowledge of the Bible, his attempt to always do the right thing.  He had a unique sense of humor.  He overcame life's hardships with grace and humbleness.  Even though distance separated them, beloved friends from Alaska, Australia, and other parts of the world were especially meaningful and integral in Ron's life.  These bonds of friendship gave him great comfort and joy.
Surviving Ron are his former wife, Patricia Alturo of Texas; siblings Mary Ellen (David) Clarke of Painted Post, NY and Dan Faulkner of Geneseo, NY; nieces Pamela Goins of Rock Hill, SC, Traci Langton of Indian Land, SC, and Christine Faulkner of Geneseo, NY; treasured great nephews DJ Langton, Noah Goins, and Matthew Langton all of SC; many beloved cousins.
Ron was especially blessed with a very special close friend, Barbara Nowlan of Texas.
The family will greet relatives and friends from 10 a.m. – 11 a.m. Saturday (July 29, 2023) at the Bishop-Johnson & DeSanto Funeral Home, 285 Main St., Hornell where a Celebration of Life will take place at 11 a.m. Saturday. Interment, with full military honors, will follow at Greenlawn Cemetery, South Dansville, NY. All the services will be live streamed and may be seen either on the Facebook page of Bishop-Johnson & DeSanto Funeral Home or on the homepage of www.bishopdesanto.com (please see link for live stream) for 30 days beginning at 11 a.m. Saturday (July 29, 2023.
 The Bishop-Johnson & DeSanto Funeral Home is honored to assist Ron's family with the arrangements.
The United States flag and the Marine Corps flag will proudly fly at the Bishop-Johnson & DeSanto Funeral Home in recognition of Ron's military service.
In lieu of flowers, those wishing may contribute in his memory to CareFirst (Hospice) 3805 Meads Creek Road, Painted Post, NY 14870. Envelopes for memorial contributions will be available at the funeral home.
Online condolences or remembrances of Ron are welcome below in the comment section or on the Facebook page of Bishop-Johnson & DeSanto Funeral Home.
Subscribe to receive updates