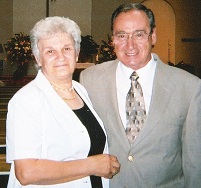 | | |
| --- | --- |
| Date of Birth | December 31, 1937 |
| Date Deceased | June 19, 2023 |
| Hometown | Hornell |
| Home State | N.Y. |
| Service Date | June 26, 2023 |
| Service Time | 10 a.m. |
| Service Location | St. Ann's Church, Hornell |
| Interment Location | St. Mary's Cemetery, Town of Fremont |
Robert L. Rosell
HORNELL – Robert L Rosell, 85, passed away Monday (June 19, 2023) at his home on Riverside Place with his children, where he returned for one last Father Day (against medical advice) after two weeks in the ICU at Thompson Hospital in Canandaigua.  He received the most excellent care while in the ICU by the nursing staff there and should be commended for their work, he was transported home by his children.  He was loved by and will be missed by both his children.
Born December 31, 1937 to Forrest and Lena Rosell, he was a graduate of Hornell High School which stayed dear to his heart.  He married Eleanor Paluzzi after seeing each other in their high school years, him in Hornell and her in Watertown and he very much adopted her family as his upon their marriage. He was drafted in 1961 and served in the Army two years during the Korean Conflict while based in Germany most of the time. He rarely took credit for serving because "he wasn't near action or in peril" though he was overseas and away from his family and new spouse. They brought Tim into their lives in 1967 and Tina into their lives in 1970.  The family spent many vacation days in Watertown with the Paluzzi family. Eleanor's father had worked on the railroad in Watertown and despite a language barrier, we are told they got along very well. Bob worked for the Erie and Erie-Lackawanna, Conrail and finally Norfolk Southern in the final years of his 41 years on the railroad (his father had done 44 years); he received many safety awards and was asked to teach safety classes.  He never left Hornell even when the railroad left, and he did thousands of miles a year commuting to Buffalo so his family could remain in Hornell. He was a United Transportation Union No. 318 Secretary for the railroad for a number of years, running the Union out of his home on Sawyer Street (bought Nov. 22, 1963) where he remodeled and lived for most of his life until 2000 when he moved to Riverside Place in Hornell.
He was an avid golfer during his railroad years and after and enjoyed many a libation at the Twin Hickory with his compadres, Mike Barillo and Bobby Connell. He very much enjoyed the fall hunting season at the Whitford hunting camp with many including Mike, Jimmy, Al and Rod. He attended many of the sporting events of the grand kids and enjoyed pool time with his great grandchildren in Florida. Family time after workdays was the pride of his time.  He was a communicant of St. Ann's Church in Hornell, but mostly when he was told to go by Ellie.
He was a past co-President of the Hornell Alumni Association with Ray Schwartz for many a year and enjoyed that task greatly, interacting with the Board and the Superintendents and he worked with the Scholarship committee. He also enjoyed his yearly 1950s Class reunion picnic and his Thursday lunch meetings at the Villa with his classmates, particularly Dottie and Pete. He also kept busy in retirement years without golf while working for his friends, Bill and Steve at the Bishop-Johnson & DeSanto Funeral Home and entertaining the "diggers" at the various cemeteries from time to time.  He very much enjoyed his few summer weeks on Keuka Lake in Shore Acres.  He lived a very full life and one with very few regrets and always when asked, even if having any aliments, he was "fine".
He was predeceased by his beloved wife of 58 years, Eleanor Rosell in 2018. He is survived by his son, Tim (Cindi) and their two children, Nolan and Alexandra. Bob is also survived by his daughter, Tina and her three children, Laken (Devon) Mullen, Katilyn (Franke) Davis and Mitchell. Joyfully he is also survived by his three great grandchildren who he enjoyed immensely. He is survived as well by his Riverside Place neighbors including, Dan and Laura, Denny and Lynn, whom he made his last phone call to announcing he was back home.  He was also predeceased by his siblings, William, Dick, Birdie, Norma, Ray and Charlie and is survived by many of their children.  He is also predeceased by Eleanor's siblings, Olga Spazziani, Atzio Paluzzi, Angie Clafin and Mary Misercola.
Calling hours are 1-4 p.m. Sunday (June 25, 2023) at the Bishop-Johnson & DeSanto Funeral Home, 285 Main St., Hornell. Relatives and friends are invited to join his family at St. Ann's Church, 31 Erie Ave., Hornell where a Mass of Christian Burial will be celebrated at 10 a.m. Monday (June 26, 2023). Committal prayers and interment, with military honors, will follow at St. Mary's Cemetery, Town of Fremont.
The United States flag and the Army flag will proudly fly at the Bishop-Johnson & DeSanto Funeral Home in recognition of Bob's military service.
In lieu of flowers, those wishing may contribute in his memory to the Hornell High School Alumni Association, P.O. Box 135, Hornell, NY 14843. Envelopes for memorial contributions will be available at the funeral home.
The Bishop-Johnson & DeSanto Funeral Home is honored to assist Bob's family with the arrangements.
Online condolences or remembrances of Bob are welcome below in the comment section or on the Facebook page of Bishop-Johnson & DeSanto Funeral Home.
Subscribe to receive updates