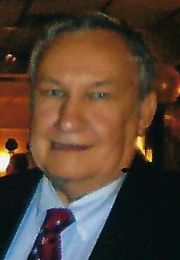 | | |
| --- | --- |
| Date of Birth | June 12, 1942 |
| Date Deceased | March 28, 2020 |
| Hometown | Hornell |
| Home State | N.Y. |
| Interment Location | St. Mary's Cemetery, Town of Fremont |
Richard G. Knapp
HORNELL-Richard G. Knapp, 77, of River Street, passed away early Saturday morning (March 28, 2020) with his loving family by his side.
Born in Hornell on June 12, 1942, he was a son of the late Francis and Irene (Derby) Knapp. Besides his parents, he was also predeceased by two sisters, Bobbie Postilli and Patricia Messinger; two brothers, Ronald (Linda) Knapp and Jim Knapp; also his brothers-in-law, Augie Postilli, Richard "Dick" Brefka and his best friend and brother-in-law, Angie Daniels.
A resident of Hornell for most of his life, Rich was a graduate of Hornell High School and was employed from 1958 to 1961 at the "Fox Hole" of the Hornell Area Family YMCA and at the former Erie Railroad Accounting Bureau in Hornell from 1960 to 1961. Rich was employed as an accountant with Esterheld & Connolly in Rochester, N.Y. from 1961 to 1968 and while residing in Rochester he attended the Rochester Institute of Technology (R.I.T.) He was employed from 1968 to 1991 as an accountant with Fran and Gene Matacale CPA in Hornell and later he was associated with the Canada Dry Bottling Company in Hornell. For 20 years he was employed as an accountant for Ken Snyder of Alfred for the former Coachlight Steakhouse and Motel in Hornell. In 2006 he retired as general manager for the Econo Lodge in Hornell.
Rich was a member of Our Lady of the Valley Parish and was a communicant of St. Ann's Church in Hornell. He was also a former member of the Hornell Eagles and the Hornell Association. Rich was an avid Buffalo Bills and Boston Red Sox fan and will be remembered most of all for his sense of humor, his kind heart and riding his bicycle around Hornell. He also volunteered as a baseball coach for several years.
His loving family includes one sister, his best friend and confidant, Jackie Daniels of Hornell; one brother-in-law, Gary Messinge of Syracuse, N.Y.; one sister-in-law, Eduvina Knapp of Brownsville, Tex.; his nieces and nephews, Tony (Pam) Daniels of Rochester, N.Y., David Daniels of Hornell, Rich (Lori) Daniels of Wellsville, N.Y., his "first love", Chrissy (Tony) Morelle of Rochester, N.Y., August Postilli (Manoj Govindan) of Philadelphia, Pa., Michael (Nancy) Postilli of Greece, N.Y., Joseph (Christine) Postilli of Canisteo, his "partner in mischief", Lisa Postilli (Ken Downey) of Hornell, his best buddy and friend, Hannah Downey, Matthew Postilli of Hornell, Travis Knapp of Ohio, Katie (Scott) Jones of Virginia, Jimmy Knapp of Texas, Jennifer Legault of California; Venissa Knapp, Mamie (Paul) Moon and Jimmy Knapp all of Texas; A.J. (Nicole) Brefka of Syracuse, N.Y.as well as his many great nieces and nephews.
"If kindness is your king, then heaven will be yours…" dmb.
The Bishop & Johnson Funeral Home, Inc. in Hornell is honored to serve the family of Richard G. Knapp.
There will be no calling hours. A private viewing and funeral service will be held at the convenience of the family at the Bishop & Johnson Funeral Home, Inc., 285 Main St., Hornell. Interment will be in St. Mary's Cemetery, Town of Fremont.
In lieu of flowers, those wishing may contribute in his memory to the Hornell Area Family YMCA, 18 Center St., Hornell, N.Y. 14843.
Online condolences or remembrances of Rich are welcomed on the Facebook page of Bishop & Johnson Funeral Home, Inc.
Subscribe to receive updates