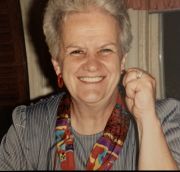 | | |
| --- | --- |
| Date of Birth | June 29, 1934 |
| Date Deceased | January 28, 2021 |
| Hometown | Hammondsport |
| Home State | N.Y. |
| Interment Location | Pleasant Valley Cemetery, Hammondsport |
Patricia Ellen Bresser
Patricia Ellen Bresser passed away on Thursday (Jan. 28, 2021), at the age of 86 after a long battle with Alzheimer's Dementia. Patty was born in Newark, N.J. on June 29, 1934, the oldest child of William and Kathryn Sadeik. She was preceded in death by her parents; her sister, Kathleen; infant brother, William; and devoted husband, Bill on their 49th wedding anniversary in 2002. She was a loving wife, mother, sister, grandmother, great-grandmother, and friend to all who were blessed to know and spend time with her.
Patty is survived by one son, William (Denise) Bresser Jr. of Athens, Pa.; eight daughters, Patty Belowsky of Bayville, N.J., Colleen (Chris) Burns of Bath, N.Y., Kathy Putman of Victorville, California, Suzy Bresser of Hammondsport, N.Y., Geri (Frank) Fox of Keyser, West Virginia, Sandy Chamberlain of Rochester, N.Y., Roxanne Kroh of Alden, N.Y. and Christine Graupman of Webster, N.Y.; one sister, MaryAnn Kopitskie of Spotswood, N.J.; 21 grandchildren, Jimmy, Joey, Corey, Kyle, Johnny, James, Sara, Mark, Kym, Owen, Ray, Katie, Matt, Nicky, Josh, Jesse, Otto, Cody, Brian, Brett and Brittany; 19 great-grandchildren, Ryan, Kaitlyn, Tobias, Macy, Kylan, Khloe, Elle, Teagan, Jacob, Andrew, Liliana, Mason, Kailey, Madison, Killian, Cameron, Tucker, Laynee and Bradley; and nephews.
Patty kept an immaculate home, was a fantastic cook despite never measuring any of the ingredients, was highly skilled with knitting needles and crochet hooks, and never failed to leave a lasting impression on all those with whom she crossed paths. She had plenty of creative energy and enjoyed expressing her creativity by refurbishing and painting furniture and various other decorative items to brighten rooms and enhance the family home. She also loved to read and shop at thrift stores, especially Sally-Ann's. Patty's sense of humor, infectious smile, and love of music never left her even as her health declined in recent years as you always found her moving to music. Her death leaves a void in the lives of all of those who were privileged to know her but she also leaves many wonderful memories.
Due to the ongoing pandemic, a private viewing for immediate family members will be held at LaMarche Funeral Home, 35 Main St., Hammondsport, N.Y., on Wednesday (Feb. 3, 2021) at 11 a.m., immediately followed by a graveside service at Pleasant Valley Cemetery, Hammondsport. The family requests, in lieu of flowers contributions be made in her memory to the Hammondsport Public Library, 21 William St., P.O. Box 395, Hammondsport, N.Y. 14840 or a tree is planted in Patricia's memory by visiting alivingtribute.org. Instead of a repass, the family will host a memorial picnic on June 27, 2021 in Hammondsport, N.Y. for all family and friends to celebrate Patricia's life.
The family would like to thank the nursing staff at Sayre Health Care Center for their compassionate care provided to Patty during her stay there, especially the past ten months.
The LaMarche Funeral Home in Hammondsport is honored to assist Patricia's family with the arrangements.
Online condolences or remembrances of Patty are welcomed on the Facebook page of Bishop & Johnson Funeral Home, Inc.
Subscribe to receive updates