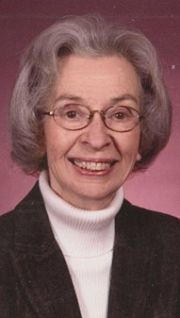 | | |
| --- | --- |
| Date of Birth | September 1, 1932 |
| Date Deceased | January 16, 2022 |
| Hometown | Hornell |
| Home State | N.Y. |
| Service Date | January 22, 2022 |
| Service Time | 9:30 a.m. |
| Service Location | St. Ann's Church, Hornell |
| Interment Location | St. Mary's Cemetery, Town of Fremont |
Natalie Ann Weyand
HORNELL-Natalie Ann Weyand of Hornell died at Teresian House in Albany, NY on January 16, 2022. In recent years she had been afflicted by a weakening of the heart and she passed away peacefully in her sleep early Sunday morning. Born at St. James Mercy Hospital in Hornell on September 1, 1932, she was a daughter of the late Leo F. and Natalie Elizabeth (Kiehle) Weyand, and sister of Barbara (Miles) Weyand, all of whom predeceased her. She is survived by her first cousin John Weyand of Colonie, NY, cousins of succeeding generations, a nephew often referred to as 'her favorite' even though he was the only one, a grand-niece and nephew, and many friends.
A lifelong resident of Hornell, Natalie graduated from Hornell High School in the Class of 1950. She was fond of reciting the class motto to anyone who inquired and would be very pleased if the reader would put it to memory: 'Sharp as nails, neat and thrifty, hail the class of 1950'. Natalie received her Bachelors' Degree in Elementary Education with a minor in Speech and Dramatic Arts from SUNY Geneseo in 1954. She also completed graduate courses at Alfred University, SUNY Buffalo, Syracuse University and Catholic University, and received her Masters' Degree in Clinical Speech Pathology from Penn State University.
Natalie began her professional career in Hornell in 1954 as a Kindergarten teacher for four years at the Bryant School. In the Fall of 1958, the Superintendent commissioned her to implement a new speech-language correction program for the Hornell City School District. She developed and maintained that program until her retirement in 1989. She was a lifetime member of the American Speech-Language Hearing Association, the New York State Speech-Language Hearing Association, the International Association of Logopedics and Phoniatrics, the Mu Chapter of Delta Kappa Gamma honor society for women educators, past secretary of the Hornell Teachers' Association, and member of NYSUT Council 46, NY State and Steuben County Retired Teachers' Associations. Natalie often remarked about how gratifying it was to have former students come up to her with remembrances of their time in her classes over the years. She was fond of recalling that in her tenure as Speech Therapist for the District, she had been known as the 'Talking Teacher', and she endeavored to continue living up to that title throughout her retirement years.
Natalie was a communicant of St. Ignatius Loyola Church, later at St. Ann's Church of Our Lady of the Valley Parish. She was a past member of the Rosary and Altar Society, Ladies of Columbus, and Resurrection Choir. Natalie loved Hornell, its wonderful residents, and the incredible beauty and diversity of the Southern-Tier. She had a special fondness for Loon Lake and was the first Secretary/Treasurer of the Loon Lake Cottage Owners Association chartered in 1973.
In addition to teaching, Natalie was active in her community and over the years served on the Boards of the Hornell Children's Home, Hornell Chapter of the American Red Cross, and the Hornell Area Arts Council. Other affiliations included the St. James Mercy Hospital Auxiliary, Hornell YMCA and Fortnightly Book Club. In addition to her community involvement, Natalie also enjoyed music, particularly choral singing, gardening and dramatics.
Natalie was a devoted aunt to her sister's son from 1965 to the present. She was always the source of fun, activities and adventures particularly at Christmas, Easter and during summer vacations. He would be grateful for the reader to know that it was Aunt Nat's attention to him in his early years that was responsible for laying the foundation for any good that he may have done as an adult.
For safety's sake during the continuing pandemic there will be no calling hours. Family and friends are invited to St. Ann's Church of Our Lady of the Valley Parish, 31 Erie Ave., Hornell where a Mass of Christian Burial will be celebrated on Saturday, January 22, 2022 at 9:30 a.m. Masks are requested but singing is encouraged. Burial will be next to her parents at St. Mary's Cemetery in Fremont. All the services will be live streamed and may be seen either on the Facebook page of Bishop-Johnson & DeSanto Funeral Home or on the homepage of www.bishopandjohnsonfuneralhome.com (please see link for live stream) for 30 days beginning at 9:30 a.m. Saturday (Jan. 22, 2022.
In lieu of flowers, memorial contributions may be made to a new Hornell High School Alumni Association scholarship fund to be established in Natalie's name for students pursuing a career in elementary education or speech pathology. Contributions may be sent to the Hornell High School Alumni Association, P.O. Box 135, Hornell, NY 14843. Envelopes will be available at the church.
The Bishop-Johnson & DeSanto Funeral Home, 285 Main St., Hornell is honored to assist Natalie's family with the arrangements.
To leave your own personal remembrance or condolence you may click on the link below or visit the Facebook page of Bishop-Johnson & DeSanto Funeral Home.
Subscribe to receive updates