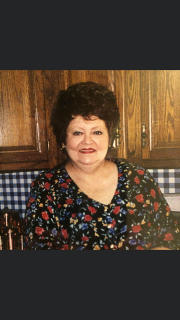 | | |
| --- | --- |
| Date of Birth | March 28, 1940 |
| Date Deceased | April 22, 2020 |
| Hometown | Avoca |
| Home State | NY |
Mona Alice Sherwood
AVOCA- Mona Alice Sherwood, 80 years old, walked into the loving arms of our Savior Jesus Christ on 4/22/2020, after a brief illness at Arnot Ogden Medical Center in Elmira, NY.
Mona was born in Hornell, NY on March 28, 1940 to Lewis and Alice McBride, the first of four children. She was passionate about horses and artwork. She married Ivan Cranmer in 1958, and started her family, and moved to Mitchellsville, NY where she lived for 17 years. She was employed at the Southern Tier Shopper as an advertisement artist, and did artwork for some local publications. She then took a job at McConnell Manufacturing in Prattsburgh, New York in 1977. It was there that she met her second husband, Earl Sherwood. They married in 1979. She had several different jobs after that including employment at the Bank of Avoca, Ira Davenport Hospital, and Sunrise Realty. She owned Avoca Food Mart with her husband Earl, where she did the bookkeeping for several years before retiring in 2003. In all of her employment, she was noted for the personal, compassionate way in which she dealt with coworkers and clients.
Mona's later years were spent vacationing in Florida in the winter, and enjoying her campsite in the summer. Health issues began to limit her mobility, and she became a resident of Taylor Health Center in October 2019. Despite her health issues she maintained a very positive attitude, and enjoyed conversing with her family and the staff of the nursing home. She always perceived her final months as "royal treatment ", due to the loving care of the staff.
Everyone who met Mona walked away knowing that she was a warm, loving, and extremely kind person. As a wife she was a blessing from God, and always a pleasure to be around. As a mother she was always compassionate, putting the best interest of her children ahead of her own. When dealing with her children as adults she was forgiving, understanding, and nonjudgmental. She was as good a friend as you could find, always with a word of encouragement, or a funny story to tell. She was an exceptional listener, a rare skill these days. She was naturally a very beautiful woman, but did enjoy wearing lipstick. She appreciated the simple pleasures of life, and was always the first to point out a beautiful sunset. She loved gardening, especially flowers. She also loved animals, and usually kept a pet dog or cat. She enjoyed reading, and especially enjoyed reviewing the details with a family member who had read the same book. She was a very talented artist.
She is predeceased by her parents, Lewis and Alice McBride of Towlesville, NY. She is survived by her husband, Earl Sherwood of Avoca; sons, Curtis (Susan) Cranmer of Bath, New York, Martin (Lynn) Cranmer of Fairport, New York, and Christopher (Candace) Cranmer of Roswell, Georgia; as well as sisters, Carolie (Frank) Guilbault of Richfield Springs and Urbana, New York, Marilyn (Marianne) McBride of Albany, New York; and brother, Ronald (Elaine) McBride of Paradise, Kentucky. There are many grandchildren; Jennifer Cranmer, Michael Cranmer, Caitlyn Finnerty, Andrew Cranmer, Allison Cranmer, Clay Cranmer, and Ashlee Cranmer. She is also survived by stepdaughter Eileen Bovee of Florida, as well as stepsons, David (Kimberle) of Prattsburgh, and Mark (Wendy) of Arcade, New York.
A special word of appreciation is given to the staff of the Taylor Health Center and Arnot Ogden Hospital, who lovingly gave her their best in her final days.
The Avoca Funeral Home, 22 N. Main St., Avoca is honored to serve the family of Mona Alice Sherwood.
Due to the coronavirus pandemic there are no plans for a funeral service. A Celebration of Life will be planned for mid to late summer. In lieu of flowers, donations to the Avoca United Methodist Church or the Chemung County SPCA in her name would be greatly appreciated.
Online condolences or remembrances of Mona are welcomed on the Facebook page of Bishop & Johnson Funeral Home, Inc.
Subscribe to receive updates