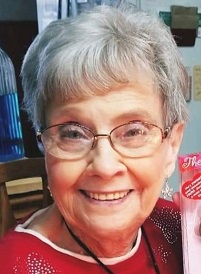 | | |
| --- | --- |
| Date of Birth | November 12, 1939 |
| Date Deceased | November 29, 2022 |
| Hometown | Hornell |
| Home State | N.Y. |
| Service Date | January 14, 2023 |
| Service Time | 2 p.m. |
| Service Location | Bishop-Johnson & DeSanto Funeral Home |
MARY HELEN HANRAHAN
HORNELL- Born on November 12, 1939, Mary Helen Racalto-Hanrahan went to be with Yahweh on Tuesday, November 29, 2022 when she passed peacefully in her home with family.
Mary was preceded in death by her husband, Robert; father, Angelo; mother, Lenora; stepmother, Catherine; brothers, Peter, Daniel, and James, and sister, Rose Marie. She is survived by her two daughters, Susan (Richard) Macool of Valdosta, Georgia and Heather (Thomas Beers) Cornish of Hammondsport, New York. Grandchildren, Jason (DiAanza) Macool, Airielle (Luke) Cunningham, Gabrielle (James) Heston, Shelbie (Damian) Foster, Shaelyn Macool, Ian Cornish, and Abigail Cornish. Great Grandchildren, Liam Macool, Carter Cunningham, Charlotte Cunningham, and Emmaline Foster. Sisters, Joyce (Bob) Albright, Carol (Herman) Archundi, Marianne (Michael) Townsend, Elizabeth (Joe) Zaffran, Catherine (Rick) Bergquist, Bonnie (Dennis) Fuitko and Beverly (Mike) Burke; plus, many nieces, nephews, cousins, and friends. Mary will be missed by many.
Mary Helen Racalto-Hanrahan (Mimi, Me-Helna, Mary Helen, Mom, Momma, Aunt Mary) was born in Hornell NY to the late Lenora Mills and Angelo Racalto, where she spent most of her life. Mary attended St. Ann's Grammar School and was a graduate of Hornell High School in 1957. After high school Mary attended St. James School of Nursing graduating in 1960; she spent two years at Mt. Sinai Hospital in New York City as a labor and delivery, nursery, and pediatric nurse. Upon her return to Hornell, she continued her nursing career in the same clinical settings at St. James Mercy Hospital. During this time, she married Robert T. Hanrahan, continued her education at the University of Rochester (Nurse Practitioner program-NP), and had her first daughter (1967). Mary went on to graduate in 1970 from the NP program (only the second NP class to graduate from U of R and continued to follow her love for children. Mary was instrumental in developing and opening the first well childcare clinic in Hornell. She provided care for the area's children at that clinic until 1972 when a pediatrician came to the area, Dr. Bijon Chaudhuri, and she began to work with him as a Pediatric Nurse Practitioner (PNP). Mary practiced as a physician extender for several physicians throughout her career; Dr. Chaudhuri, Dr. Kim, Dr. McGuire, Dr. T Virdee, and many others, until 2001 when Macular Degeneration forced her retirement.  Many believe she would have never retired otherwise; she loved her work and mission that much.  Mary has always been very proud that she was in the first group of Nurse Practitioners in New York state to become board certified through the very first board certification exam given by the American Nurses Association. In 1986 she once again ventured back to university and expanded her education becoming a Physician's Assistant. She was so proud of her title: Mary H. Hanrahan RN, PNP-C1/ PA-C. Mary was a member of St. Ann's School Board, Parent Teacher Association member and influential in bringing the Right to Life movement to Hornell.
For those that new Mary well, she never had patients, she always had "her babies". It was always a topic of conversation and whenever she was out in the community and asked who she was speaking with, the reply was, "that is one of my babies". She touched the lives of generations of families, and this will never be forgotten. Throughout her vast and amazing career, she not only cared for well children, but was instrumental in diagnosing many conditions and some rare. She was proud of that and always taught that the best way to understand a baby is to listen to the mother, they know best.
Mary always tried to maintain a stable work life balance as the mother of two, wife, sister, daughter, and the best Pediatric NP in the entire county. She enjoyed time spent camping with her family at Sun Valley in Canaseraga, NY and around the north eastern parts of the U.S. Family was most important to Mary and she enjoyed holidays with her siblings and their families. She was a fantastic baker, cook, entertainer, crafter, and sewer; she loved cross stitch, but will be remembered by most by her family for her Love and mastery of monopoly.  Mary, to many, is a national treasure, one that will be missed by many, many people.
Calling hours are noon – 2 p.m. Saturday (JANUARY 14, 2023) at the Bishop-Johnson & DeSanto Funeral Home, 285 Main St., Hornell, where a funeral service will take place in her memory following the calling hours at 2 p.m.
In lieu of flowers, please consider sending a donation to St. Jude Children's Research Hospital, 501 St. Jude Place, Memphis, TN 38105-1942. in Mary's name.
The Bishop-Johnson & DeSanto Funeral Home is honored to assist Mary's family with the arrangements.
Online condolences or remembrances of Mary are welcome in the comment section below or on the Facebook page of Bishop-Johnson & DeSanto Funeral Home
Subscribe to receive updates