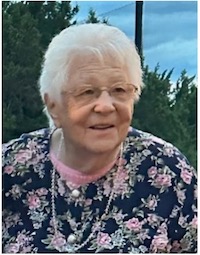 | | |
| --- | --- |
| Date of Birth | January 15, 1932 |
| Date Deceased | February 10, 2023 |
| Hometown | Avoca |
| Home State | N.Y. |
| Service Date | February 18, 2023 |
| Service Time | 3:00 p.m. |
| Service Location | Wallace Wesleyan Church |
| Interment Location | Highland Cemetery |
MARY ELLEN (FREDERICK) MURREY
AVOCA – Mary Ellen (Frederick) Murrey graduated to Heaven at the age of 91, on Friday February 10, 2023.
Mary Ellen was born as the 2nd of six children, to Arthur & Maude Frederick, in Rush, New York on January 15, 1932.   Before the age of five, her family moved to a poultry farm on Neils Creek Road, Avoca, New York.   She became a strong and intricate part of the farm life, working alongside her father in all aspects on the Frederick Poultry Farm.   She also helped load and truck chickens or eggs to local stores and the railroad station in Avoca.   Work on the farm was long, hard and demanding, but she enjoyed it and it made her the strong woman she became.
Since the age of 8, she attended Sunday School at Wallace Wesleyan Church.  She accepted Jesus Christ as her Lord and Savior as a teenager after attending a youth event at Canisteo Wesleyan Church and hearing the song "I Dreamed I Searched Heaven For You".   She became a very active member, taught Sunday School, never hesitated to help wherever needed, and was the treasurer for over 25 years.   She was an encourager, a prayer warrior, and enjoyed going to visit those that were sick or lonely.
As a teenager she wanted to play the violin, but it wasn't offered in school so she decided to play the cello. She was in FHA, on the student council and Library club, and played soccer.  She graduated from Avoca High School and took one year of Business school in Hornell.   She became the bookkeeper at Haines Equipment in Avoca, where she retired after 35 years.   While at Haines, she met co-worker Robert E. Murrey, who became the love of her life.  Bob and Mary Ellen married April 12, 1969.   Marrying Bob immediately blessed her with three children (Dotty, Bob Jr, and Chris), whom she quickly loved deeply as her own.
Bob and Mary Ellen loved to travel, and in their early years, drove their Volkswagen Bug to California. They had many adventures during their 13 years of marriage until Bob's passing.   She remained very close to her new family, visiting them often in the Baltimore, Maryland region.
Mary Ellen overcame typhoid fever, cancer twice, a broken neck, the death of her two brothers at an early age, and she outlived many younger family members and friends.   Each hardship only made her stronger and more resilient.   She was soft spoken, kind, extremely generous, and always thinking of others.   She loved gardening, watching birds, riding her bike, taking walks, and being at the ocean.  She loved people, and loved visiting and talking about Jesus.  She loved sweets, especially brownies and that extra scoop of ice cream.
She was predeceased by her parents, Arthur & Maude Frederick, two brothers Don and Ron, and three sisters, Lenora, Betty, and Doris.   She was also predeceased by her husband Bob, son-in-law Jack, and children Bob Jr, and Chris.   She is survived by her daughter Dotty, daughter-in-law Sandy, 8 grandchildren, 20 great-grandchildren, and 2 great-great grandchildren.  Also surviving her are many nieces and nephews, all of whom she had an extra-special relationship with.  God blessed her with a huge family, and she loved each of them as her own.   She was loving, generous and kind to all who had the privilege of being honored with her presence and is deeply missed by family and friends alike.
Her life verse was Proverbs 3:5-6…" Trust in the Lord with all your heart and lean not on your own understanding.  In all your ways acknowledge Him and He will make your paths straight."
Calling hours will be held at Wallace Wesleyan Church, 9079 Church St., Avoca, Saturday (Feb. 18, 2023) from 1-3 pm, a service directly following at 3 pm, with Pastor Bill Spencer and Pastor Dan Pickering officiating.
In lieu of flowers, those wishing may contribute in her memory to Wallace Wesleyan Church, 61145 State Route 415, Avoca, NY 14809.
The Bishop & DeSanto Funeral Home, 22 N. Main St., Avoca is honored to assist Mary Ellen's family with the arrangements.
Online condolences or remembrances of Mary Ellen are welcome in the comment section below or on the Facebook page of Bishop-Johnson & DeSanto Funeral Home.
Subscribe to receive updates