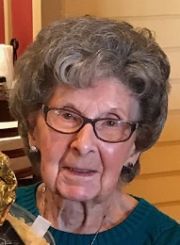 | | |
| --- | --- |
| Date of Birth | October 27, 1920 |
| Date Deceased | November 26, 2021 |
| Hometown | Canandaigua |
| Home State | N.Y. |
Marjorie Louise Illig
CANANDAIGUA-Marjorie Louise Illig, 101, of Canandaigua, NY, went to be with her Lord and Savior on Friday, November 26, 2021 after a recurring battle with breast cancer.
She was born October 27, 1920 in Niagara Falls, NY to James and Grace Jones. After graduating from Niagara Falls high school she worked as a receptionist, then married and became a farm wife in Wilson, NY. She raised a family and spent many years working at Harrison Radiator in Lockport, NY. In 1965 she was remarried to the love of her life, Don Illig. They spent many happy years together in several Lockport homes and a winter home in Port Charlotte, Florida. The favorite place for them, and many guests, was their summer home on Lake Bonaparte in the Adirondacks of Upper NY. In later years, when the responsibilities and effort of the snow bird lifestyle got difficult, they relocated near family in Hammondsport, NY. After her husband's passing her final residence was in Canandaigua, NY.
She was truly a remarkable woman. She was actively interested in the lives of her kids, grandkids, great grandkids, and great, great grandkids, knowing what was going on in each of their lives. You knew she cared. The many people who knew her would each have a different perspective on "who she was". All of them would say that she was a very special person in their lives and was a true role model on how to live. She was an avid reader, an excellent cook, a stylish dresser and a meticulous housewife. Having accepted the Lord as her Savior, in her 80s, she was looking forward to Heaven. Though never a complainer, in her final weeks she was wondering what was taking Him so long.
Left to cherish her memory are her daughter, Diane Albright; son, Richard (Buck) Tillotson; step-daughters Donna Kiel, Georgia (Matt) Nicosia; step-sons Larry Illig, Denny (Robin) Illig; 12 grandchildren, 25 great grandchildren, and four great-great grandchildren.
She was preceded in death by her parents; sisters, Ruth Funk and Mary Locke; husband, Don Illig; son-in-law, Lloyd Albright; daughter-in-law, Becky Tillotson and grand-daughter, Carrie Elledge.
In accordance with her wishes, her body has been donated to the Anatomical Gift Program at the University of Rochester Medical School. A memorial service will be held at a future date.
The LaMarche Funeral Home, 35 Main St., Hammondsport is honored to assist Marjorie's family with the arrangements.
To add your own personal remembrance or condolence you may click on the link below or visit the Facebook page of Bishop & Johnson Funeral Home, Inc.
Subscribe to receive updates