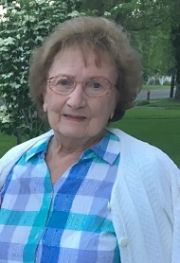 | | |
| --- | --- |
| Date of Birth | June 5, 1939 |
| Date Deceased | May 31, 2021 |
| Hometown | Hornell |
| Home State | N.Y. |
| Service Date | June 4, 2021 |
| Service Time | 10 a.m. |
| Service Location | St. Ann's Church, Hornell |
| Interment Location | St. Mary's Cemetery, Town of Fremont |
Margaret Mary "Peg" McDermott
HORNELL- Margaret Mary "Peg" McDermott, 81, passed away suddenly and peacefully at her home in
Hornell on Monday (May 31, 2021).
Born on June 5, 1939 in Rochester, NY to Lloyd and Helen Brown. Her father was a traveling salesman
so the family moved many times throughout her childhood to Pennsylvania, Long Island, NY, Bloomfield,
NJ, and then back to Rochester, NY. Peg attended Our Lady of Mercy High School in Rochester, Class of
1957. While in high school, she worked part-time in the bookkeeping department at the former Sibley's
in Rochester (alongside her mother) to earn money for nursing school after her graduation.
After graduating from Our Lady of Mercy, Peg then attended the St. James Mercy Hospital School of Nursing in Hornell, NY. She graduated from the School of Nursing in 1960. She worked for a short time at St. Mary's Hospital in Rochester, and then returned to Hornell to begin working at St. James Mercy Hospital in 1961. She met her former husband while in nursing school and settled in Hornell to raise her family. Peg was an RN on the Maternity Ward at St. James for over 32 years; she was then transferred to the Adolescent Psychiatric Unit until her retirement in 2005. She continued to work per diem on the Adolescent Psych Unit for approximately 5 more years. During her nursing career over the years, Peg also worked for Prudential Insurance Company conducting physical exams for applicants. She was extremely proud to have become a certified Lamaze Childbirth Educator. She taught these classes through St. James Mercy Hospital, in the former DeSales Hall for more than 10 years—while still working as a full-time RN at St. James Mercy Hospital. For a short period of time, Peg also worked per diem at Ira Davenport Hospital in the Maternity ward during her vacation.
Peg was well-known in the Hornell area to many couples and families who took Lamaze Childbirth classes with her and/or had her present at their children's births. So many people over the years have shared with her family how blessed they were to have her present at their children's birth and what a compassionate and skilled nurse she was. In her time on the Adolescent Psychiatric Unit, she worked hard to learn an entirely new area of nursing so many years after she began her nursing career. The patients on the unit would fondly refer to her as "Grandma Peg"—a testament to her compassionate and loving heart. Her dedication and professionalism to her career as an RN in the Hornell area will not be forgotten by those who worked with her and those who were blessed with her care as their nurse.
Peg loved her children and grandchildren with all her heart. Becoming a single mom, she strove to maintain her family and provide her children with a loving, nurturing, and stable home environment. She was always present for her children at their various events as both spectator and volunteer. She was a proud volunteer parent in the Desperado Debs Baton and Drum Corps. from its origin in the early years. She fondly recalled traveling to various events, competitions, parades and helping out with all the fundraisers over the years. This continued with her children's sports—attending all of their football, soccer, baseball games and cheerleading competitions and events. She continued the tradition of being a proud and active Nana at all her grandchildren's events over the years and was so proud of their many accomplishments. She truly enjoyed attending their youth soccer games, dance recitals, track meets, tennis matches, and musical concerts and plays over the years. Peg will be remembered as a loving mom and Nana who taught her children and grandchildren by example the importance of a solid work ethic, resiliency when facing life's challenges, a silly sense of humor, and always showing compassion to others.
Peg loved gardening and spending time outside puttering away in her lawns. So many people have commented over the years how lovely her house and yards always looked. She worked hard to maintain her family home of over 56 years. She also loved animals—especially her feline companions Lily and Yale and her former dogs Ike and Sparky—and the former dogs of her children to whom she was especially close "Winnie", "Lucy" and "Mason". Her love for animals continued until her death in her delight with her neighbor's dog "Luna". Peg was a former member of the Ladies of Columbus and a member of the prayer chain from St. Ann's Church. She truly enjoyed the luncheons with her nursing colleagues from both the maternity and the OR groups.
Predeceased by her infant daughter, Tracey A. McDermott; her parents Lloyd and Helen Brown; her siblings and their spouses: brother Thomas Brown and wife Gail; sisters and their husbands: Jean and Reed Gambler; Barbara and Vinny Sabatino; Marilyn and Paul Tarbox. Also predeceased by her former husband Ray McDermott and her former daughter-in-law and dear friend Val Cleveland McDermott.
Peg is survived by her daughter, Beth Ann Jacobs and granddaughters Vanessa Jacobs and Brianna Jacobs (fiancé, Mike Shafer)—also her granddaughter by heart Emily Rajca (Zach Lewis); her sons David McDermott and grandson Brendan McDermott—step grandson Collin and Sarah Ross and step-granddaughter Courtney and Peter Flynn; son John (Lena) McDermott and granddaughters Alaina McDermott and her husband, David Wilcox and Kelcie & Andrew Lewis. Great-grandson Cullen Lewis and step-great-grandsons Colt Ross, and Wyatt & Waylon Flynn. Also survived by many nieces, nephews, grand-nieces and grand-nephews; dear and close friends Donna Kull, Mary Helen Hanrahan, and Patricia Dailey; and special friend and neighbor Kathy Dyring and family to name a few.
Calling hours are 4-6 p.m. Thursday (June 3, 2021) at the Bishop & Johnson Funeral Home, Inc., 285 Main St., Hornell. Friends are invited to join her family at St. Ann's Church, 31 Erie Ave., Hornell where a Mass of Christian Burial will be celebrated at 10 a.m. Friday (June 4, 2021). MASKS WILL BE REQUIRED AT THE FUNERAL HOME AND THE CHURCH. THANK YOU FOR UNDERSTANDING. Private committal prayers and interment will be at St. Mary's Cemetery, Town of Fremont.
In lieu of flowers, those wishing may contribute in her memory to the "Frosty Fund" of the Hornell Area Humane Society, 7649 Industrial Park Road, Hornell, NY 14843. Envelopes for memorial contributions will be available at the funeral home.
The Bishop & Johnson Funeral Home, Inc. in Hornell is honored to assist Peg's family with the arrangements.
Subscribe to receive updates