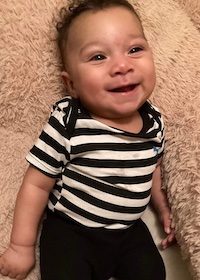 | | |
| --- | --- |
| Date of Birth | August 8, 2022 |
| Date Deceased | March 3, 2023 |
| Hometown | Bath |
| Home State | N.Y. |
| Service Date | March 26, 2023 |
| Service Time | 1:00 - 5:00 p.m. |
| Service Location | Moose Lodge, 305 Ontario St Exd, Canandaigua |
Lotus Lavon Sikes
BATH – Lotus Lavon Sikes, passed away on March 3, 2023.  Lotus was born on August 18, 2022 to John Wes Sikes and Deziree White.  Lotus was our handsome smart strong little man. Wes and Dez were blessed every moment they had Lotus. Lotus was taken far too early.
Lotus loved food and playing with his older brothers Remmissy and Meziah.  Lotus loved watching only one movie, Minions the rise of Gru.  Lotus just thought that movie was so funny.  He loved the color yellow.  His nickname it was sunshine, because he was so bright and happy all the time. Lotus was six months old (almost 7 months) and walking around with his walker toy. If Lotus was determined to accomplish something, he did it with flying colors. There was no stopping him. Lotus had the most amazing hair and skin. He was perfect in every way.  The joy and happiness that brought with just his presence was out of the world. His spirit was so full of joy, happiness, and excitement.
He is loving survived by his paretns, Wes and Dez; brothers Remmissy Bates and Meziah Bates; grandparents Tracey Williams and Jerry Hinton, Barbara Aumick and Christopher Aumick, and
Kylee and Mike Bates; uncles Dustin White, Troy, and Rahime ; aunts Cori Aumick , Lenice Sikes, Janee Sikes, and Janasia Sikes.
My son you are missed so much, the days that go by there isn't a second that we're not thinking about you. To be able to have you in our life made us complete. Mommy and Daddy and your brothers miss more than words can describe. Until we are with each other again, our handsome, smart, strong little man we love you so much. Xoxo.
A Celebration of Life will be held at the Moose Lodge, 305 Ontario St Exd, Canandaigua on Sunday (March 26, 2023) from 1-5 pm.
The Bishop & DeSanto Funeral Home, 35 Main St., Hammondsport, is honored to assist Lotus' family with the arrangements.
Online condolences and remembrance of Lotus are welcome in the comment section below.
Subscribe to receive updates