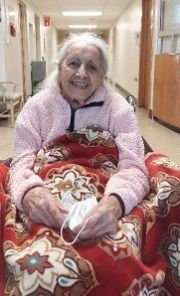 | | |
| --- | --- |
| Date of Birth | July 9, 1926 |
| Date Deceased | December 24, 2020 |
| Hometown | North Hornell |
| Home State | N.Y. |
Julia (Julie) DeGaetano Delaney
NORTH HORNELL – In the early morning hours of Thursday (Dec. 24, 2020), Julie Delaney, 94, passed quietly away. As 2020 would have it, she was not surrounded by family, but rather dedicated and caring staff at Elderwood of Hornell.
Julie was born in Hornell on July 11, 1926 to Francis and Catherine DeGaetano, both originally from Calabria, Italy. She was a 1944 graduate of Hornell High School and married "the most handsome man alive", James Delaney of Hornell. As life would have it, they did not remain married, but remained best of friends, and he remained the one and only true love of her life.
Julie had an analytical mind and was CFO of Goodwill Industries in Maryland and travelled the world trouble-shooting and writing computer programs. Who would have ever figured Julie would have difficulties with a cell phone? She retired and returned to Hornell to help care for her great-nieces and nephews, whom she loved like her own–David Kimball and Julia, Allison and Jack Henby. She spoiled them and taught them the Presidents, planets and world maps. Julie returned as well, to help her brother, Dody, at DeGaetano Shoes.
Julie will be most remembered for the generous gift of her time that she devoted to her family doing child-care and shoe sales. She will be remembered as well for the stories she would tell endlessly about her youth, her job and her family. Anyone who knew Julie, knew her penchant for Little Debbie peanut butter bars and her dislike of pasta. She was loving, yet cranky and could hold a grudge like her life depended on it. Though Julie never had a pet, even the meanest of dogs would melt at her touch. It is like an animal can sense when it finally met its match. Julie remained to the end, a force to be reckoned with.
Julie was preceded in death by her parents, Francis and Catherine; her sisters, Vincena (Dodd), Yolanda (Weidman), Domenica (Bridge), and Mary (Daniels); her beloved brothers Matthew and Vincent (Dody); her soul mate, James Delaney. She is survived by her sisters, Frances (Crain) and Ann (Potter) as well as many nieces and nephews including her special favorites, David, Julia, Allison and Jack.
There will be no calling hours at Julie's request, however a private viewing will be held for family at the Bishop & Johnson Funeral Home, Inc., 285 Main St., Hornell. A public Mass of Christian Burial will be celebrated at St. Ann's Church in Hornell at a date and time to be announced. Interment will be in St. Ann's Cemetery, Hornell.
In lieu of flowers, a donation can be made in Julie's name to the Hornell Area Humane Society, 7649 Industrial Park Road, Hornell, N.Y. 14843.
The Bishop & Johnson Funeral Home, Inc. is honored to assist Julie's family with the arrangements.
Online condolences or remembrances of Julie are welcomed on the Facebook page of Bishop & Johnson Funeral Home, Inc.
Subscribe to receive updates