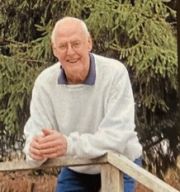 | | |
| --- | --- |
| Date of Birth | October 6, 1938 |
| Date Deceased | September 19, 2021 |
| Hometown | Prattsburgh |
| Home State | N.Y. |
James Curtis Stratton
October 6, 1938 – September 19, 2021
PRATTSBURGH – James C. Stratton, beloved husband, father, grandfather, and great grandfather passed away peacefully on Sunday (September 19, 2021), at the age of 82.
James was born October 6, 1938, in Bath, NY to parents Wesley Stratton and Jesse Odell Stratton. He married the love of his life Marjean Stratton in April of 1958 and had six children, where they raised them together in Prattsburgh, NY. He was a loving grandfather to his grandchildren and enjoyed watching them play sports and supported them in all their endeavors. James was an avid hunter and had hunted his whole life and especially loved to hunt with his children.
He was preceded in death by both of his parents, Wesley and Jesse Odell Stratton; as well as all of his siblings, Wesley Jr. Stratton, Kenneth Stratton, Virginia Tombs, and Mary Walczak; along with son-in-law, Thomas Renner and his loving wife, Marjean Stratton.
He is survived by his sister-in-law, Sarah Stratton (Wesley Jr.); all his children, Michael Stratton (Justina), James Stratton, Stephen Stratton (Brenda), Bridget Stratton (Phoebe), Joyce Hulse (Richard); and Jeffery Stratton (Jennifer) as well as his grandchildren, James C. II (Cathryn), Kyle, Casey, Tadd (Dana), Nathan Nicholas, Ashley, Morgan, and Brooke; and his great grandchildren, Harley, Hillary, Elliot, Cole, Gage, Abigail, Lauren, Aspen, Aubree and Owen. He is also survived by special friend, Kay Merrill; as well as several nieces and nephews.
An avid family man, James was a loving husband, father, grandfather, and great grandfather that was his family's biggest supporter. James was a kind man that will be incredibly missed by many.
A celebration of life will be held at a later date.
The LaMarche Funeral Home, 35 Main St., Hammondsport is honored to assist James' family with the arrangements.
To add your own personal remembrance or condolence you may click on the link below or visit the Facebook page of Bishop & Johnson Funeral Home, Inc.
Subscribe to receive updates