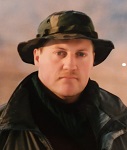 | | |
| --- | --- |
| Date Deceased | June 10, 2023 |
| Hometown | Town of Urbana |
| Home State | N.Y. |
| Service Date | June 24, 2023 |
| Service Time | 1 p.m. |
| Service Location | Community Mennonite Fellowship, Corning |
Hylen Nelson Guerin       
Hylen Nelson Guerin, age 55 of Fish Hatchery Road, Town of Urbana died unexpectedly on Saturday, June 10, 2023 of a heart attack.
Born January 9, 1968, he graduated from Hammondsport High School in 1987 and attended Hesston College and Corning Community College.  He also received a certificate in High Pressure Food Canning from the College of Agricultural Sciences, Penn State.
Hylen was a skilled hunter, shootist, heavy equipment operator, mechanic, horseman, cook, story teller, and history buff.  He loved animals and over the years enjoyed raising and owning horses, dogs and beef cattle.  Hylen had a keen wit, good mind for pranks, and writer's eye for unusual detail.  In recent years he had enjoyed putting together spectacular fireworks displays for his adored nieces and nephew at family 4th of July celebrations.
Hylen had many interesting adventures, travelling to remote places most people do not get to see.  He visited numerous Amish, Hutterite and Mennonite communities all across the U.S. and Canada canning donated meat and fruit for the Mennonite Central Committee international food relief program.
He lived in Augusta, Montana, working construction on Malstrom Airforce Base in Great Falls. During the fall hunting season he was a stock wrangler and mule packer for the Back Country Hunting outfit in the Scapegoat Wilderness of Montana.  He spent his leisure time horseback riding and hiking the mountains of Bob Marshall National Forest with friends.
Hylen visited Albania where he attended the Albanian Orthodox baptism celebration of his niece Silvana, shopped the bazar in historic Lushnje, and developed a lasting appreciation for the local cuisine.  In Greece he visited the historic sites of Athens and the beaches of the Aegean Sea.
Hylen worked for years in construction and heavy equipment operation in and around Steuben County, notably with Ray Kolo Excavation, Town of Urbana Highway Department, and Paul Venema Keuka Property Services.
He is predeceased by his father, Harley Guerin; uncles, Charles (Chuck) Guerin, Benjamin Guerin, David States, Bob Tompkins and David Turner; aunts, Sandra States, Marcia States, Nell Tompkins, Bonnie Guerin; grandparents, Nelson and Lilah States of Pleasant Valley, and Hylen and Ada Guerin of North Urbana.  He is survived by his mother, Margie States Guerin; brother, Laverne Guerin; sisters, Melissa Guerin and Jeanne Bilcari; brother-in-law, Drinald Bilcari; nieces and nephew, Silvana, Aleksia and Vangjel Bilcari; honorary brother, Scott Wilkinson; and many loving aunts and uncles, cousins and longtime friends.
Hylen was a man of faith.  We know we will see him again someday, but today our hearts are broken with this sudden loss of our beloved son, brother, uncle, nephew, cousin and friend.
Memorial services will be held on Saturday, June 24, 2023 at Community Mennonite Fellowship, 290 Park Ave., Corning, NY.  Visitation hours are 10 a.m. to 12 noon.  Service begins at 1 p.m., with a meal to follow.  The service will be accessible via Zoom.  To request access details, send an email prior to the service to guerinmemorial@gmail.com.  Private burial at Cold Brook Cemetery, Bath at a later date.
The Bishop & DeSanto Funeral Home, 35 Main St., HAMMONDSPORT is honored to assist Hylen's family with the arrangements.
Online condolences or remembrances of Hylen are welcome below or on the Facebook page of Bishop-Johnson & DeSanto Funeral Home.
Subscribe to receive updates