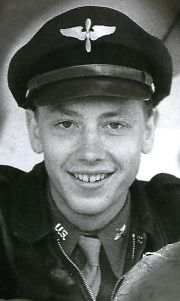 | | |
| --- | --- |
| Date of Birth | June 5, 1926 |
| Date Deceased | July 24, 2021 |
| Hometown | Hornell |
| Home State | N.Y. |
| Service Date | August 3, 2021 |
| Service Time | 1 p.m. |
| Service Location | Bishop & Johnson Funeral Home, Inc. |
| Interment Location | Hope Cemetery, Hornell |
Howard L. "Skip" Huff
HORNELL-Howard L. "Skip" Huff, 95, of 1190 County Route 66, The Woodlands, passed away early Saturday morning (July 24, 2021) at St. James Hospital in Hornell.
Born in Hornell on June 5, 1926, he was a son of the late Clark and Millicent (Jenkens) Huff. Besides his parents, he was also predeceased by two brothers, Clark Huff in 1923 and Richard Huff in 1932; one sister, Lois Cole in 2008; a nephew, David Nesbit in 2004 and his beloved companion, Cleora Carroll in 2011.
A graduate of Hornell High School, class of 1944, Skip proudly served his country during World War II with the U.S. Army Air Corps from 1944 to his honorable discharge in 1945.
He attended the Pryor Flying School at the Hornell Airport and completed his first solo flight in 1942 and received his student pilot license at the age of 16. In 1946 he received his private pilot license and in 1947 he received his commercial pilot license. Skip also attended Deforest Training, Inc. in Chicago, IL where he received his First Class radio telephone license in 1951. In 1975 he attended the Cleveland (Ohio) Flight School to receive his aircraft instrument rating.
Skip was employed at the Pryor Flying Service at the Hornell Airport from 1941 to 1949 concurrent from 1946 to 1949 at Radio Station WWHG-FM in Hornell. He was employed as the Chief Engineer from 1952 to 1954 in the construction of Radio Station WLEA in Hornell. From 1954 to 1960 he was the Chief Engineer at WWHG AM & FM and from 1960 to 1973 he was the Operating Engineer of WHEC AM and TV 10 in Rochester. He was also employed as the Chief Engineer at TV 10 in Rochester from 1973 until retiring in 1988; during which time he supervised the construction of the new facility for TV 10.
For more than 50 years he was a member of the Aircraft Owners and Pilot Association and was also a member of the Hornell High School Alumni Association. His former memberships include the Hornell Moose Lodge No. 210, the Arthur H. Cunningham American Legion Post No. 440 in Hornell, the Warplane Museum, the National World War II Museum and a flying member for 10 years of the Confederate Air Force (currently the Commemorative Air Force).
Skip was a Red Cross blood donor having donated the maximum for 11 years. When he was no longer able to donate he recruited for the Hornell Blood Banks for five years exceeding the quotas by 43 per cent when preceding quotas were seldom achieved.
He and Cleora traveled extensively until the onset of her illness in 1995. So that he might care for her, he sold his airplane and stopped flying after 54 years in which he logged approximately 4600 hours.
On May 30, 2015 he was presented with the prestigious Wright Brothers Master Pilot Award for flying 50 consecutive years or more without an accident or being convicted of violating a Federal Aviation Regulation.
His surviving family includes several nieces, nephews and cousins.
There will be a hour of calling from noon- 1 p.m. Tuesday (Aug. 3, 2021) at the Bishop & Johnson Funeral Home, Inc., 285 Main St., Hornell, where a funeral and committal service, with military honors, will be held at 1 p.m. Tuesday with Deacon Robert McCormick officiating. Interment will be in Hope Cemetery, Hornell.
The United States flag and the Army flag will proudly fly at the Bishop & Johnson Funeral Home, Inc. in recognition of Skip's military service during World War II.
In lieu of flowers, those wishing may contribute in his memory to the American Red Cross, 50 Prince St., Rochester, NY 14607. Envelopes for memorial contributions will be available at the funeral home.
The Bishop & Johnson Funeral Home, Inc. in Hornell is honored to assist Skip's family with the arrangements.
Subscribe to receive updates