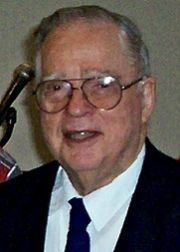 | | |
| --- | --- |
| Date of Birth | February 8, 1927 |
| Date Deceased | April 26, 2021 |
| Hometown | Avoca |
| Home State | N.Y. |
Howard Douglas Warner
AVOCA – Howard Warner was reunited with his beloved wife, Sara (Sally) Warner, and eldest son, Douglas Warner II, on April 26, 2021 surrounded by family as he gently passed into God's loving arms. Howard was born February 8, 1927 in Hamden, Connecticut to Douglas Ford Warner and Catherine Elizabeth Hindinger Warner, and he also joins them, his older brothers John and Frank Warner, and countless relatives and friends in heaven.
Howard's and Sally's lives were blessed with the birth of Douglas/Doug (Kathleen/Kay) in 1953, William/Bill in 1954, Susan/Sue (Stefan Mackey) in 1957, David/Dave in 1960, and Keith (Tracy) in 1966. In June, 2007 Doug sadly succumbed to cancer, yet Doug's love lived on through his family – Howard and Sally 3 treasured their 3 grandchildren Michelle (Paul Barkley), Douglas (Katelin) and Timothy plus 10 great-grandchildren (Courtney, Ethan, Gabriel, Evelynn, Leigha, Maddasin, Michaela, Jenna, Jacob and Grayson).
Howard's love of music began at an early age – he was active in his Hamden Public Schools (CT) band and orchestra whose music teacher inspired him to follow in his footsteps. Howard was also a member of Hamden Plains Methodist Church and sang in various youth choirs. He entered the Eastman School of Music in Rochester, NY in 1944 but his studies were interrupted from 1945 until early 1947 by service in the U.S. Army Infantry where he served in Naples, Italy as a guard replacing combat soldiers who returned home, readdressed letters for returned troops at the postal depot, and served with a unit in northern Italy protecting against invading threats. He was then assigned to the Regimental Band of the 350th Infantry Regiment playing various instruments as needed to fill gaps in the instrumentation caused by personnel redeployment. He returned to Eastman In September of 1947 and graduated in May of 1950, earning the George Eastman Honorary Scholarship for two of those years. He was an elected member of Phi Mu Alpha Sinfonia, a national honorary music fraternity, active in Student Council as Treasurer and Vice-President, and participated in the student book exchange and student production cast, all while performing in bands and orchestras around the city where he was a member of quintets and ensembles, always eager to play whenever anyone asked him to. Before returning to Eastman he played in an orchestra at Yale University and spent his summer as a staff member/counselor at the Boy Scout Camp he attended as a teenager. Scouting was one of Howard's passions, both in his teens by earning his Eagle Scout Award in September, 1944 and then guiding young scouts as an adult. His Scoutmaster was so inspirational that Howard asked him to be best man in his wedding. Howard was also a boy's counselor and principal clarinetist in the orchestra at the Tally-Ho Music Camp in Livonia, New York.
While at Eastman, Howard met his bride-to-be whose acceptance of his marriage proposal and the nearly 70 years they lovingly shared together was his greatest joy in life. They were married on August 25, 1951 at St. George's Episcopal Church in Arlington, Virginia. After graduation from Eastman, Howard began his 38-year career as an Instrumental Teacher and Band Director and Sally taught piano in their homes: 3 years at the New Berlin Central School near Utica, NY followed by 35 years at Avoca Central School in Avoca, NY. Howard's tenure at ACS began with the task of reactivating the music program which he quickly grew from a 25-member band to full size, earning numerous awards in competitive band pageants as well as guiding students for individual solo competitions where many placed among the best in the state and were selected for elite musical groups. Through the Youth Committee at Avoca he arduously worked summers giving student musicians lessons and implemented instructions for string musicians. He also assisted programs in nearby Bath, NY joining the Bath Community Band, handling summer duties during the director's absence, and directing the Bath Community Band for summer concert programs in the Reuben B. Oldfield Memorial Center in Pulteney Park. Howard and Sally were selected as adjudicators of music solos for those applying to All-State groups which they ably did for many decades.
The New England Music Camp in Oakland, Maine was both Howard & Sally's beloved summer home for 36 full summers beginning in 1966 where Howard taught clarinet students, played in groups, directed ensembles, organized student recitals, avidly played tennis, savored peaceful hours on the lake in his 12' sailboat and joyously explored every inch of Maine they could reach. After retiring as a faculty member, they visited Maine every summer with Howard attending Trustee meetings and later serving as Trustee Emeritus. The immense joy, contentment and appreciation that "wunnerful" place evoked filled their hearts to overflowing throughout their lives as well as those of their 5 children.
Howard was active throughout New York State as a member of the Avoca Historical Society for many years and an Officer for one term, performed in numerous pit orchestras for community and high school productions, played several seasons with the Corning Philharmonic, was a Charter Member of the Hornell Symphony and a member of the Hornell Area Wind Ensemble for 29 years.
In addition to Howard's musical prowess, he coached the tennis team for 25 years at Avoca Central School with 11 years of winning or tying for the league championship, 2 sectional singles titles and 2 doubles titles. He was also coach and umpire for many little league games, operated the school's basketball scoreboard for 29 years, and enjoyed hobbies like watching and playing sports (tennis, sailing, baseball, football and bowling), playing card and board games (Boggle, pinochle, cribbage, Aggravation, jigsaw puzzles, Scrabble, et al.), animals, photography and woodworking. And both Howard and Sally shared a profound love of lighthouses, loons, old-time sailing ships and of course interacting with people.
Howard and Sally were devoted and active members of the Avoca United Methodist Church throughout their years in Avoca, including Sally's heavenly organ & piano skills, Howard's booming bass voice and their rejuvenation of the choir with Sally as accompanist and Howard as choir director. The beauty of their faith, devotion to serving others and spreading God's light shall inspire for generations to come.
Howard was a man of uncompromising honesty and integrity who stood by his principles. He felt his life was truly blessed in myriad ways through honorable upright parents, a solid basic education, the gift of music nurtured by strong mentors, a college which prepared him for the world, a wife who was more than he could have dreamed of and, above all, a God who forgave his faults and blessed his life with opportunities to encounter and work with so very many wonderful people. His home, telephone and social calendar were always busy with friends from every phase of his full life.
Howard's influence on all whose lives he touched is incalculable and he will be remembered always for selflessly sharing his musical talent, faith in God, knowledge, kind thoughtfulness, sincere caring, infectious sense of humor, always making time for others, and as a man who always did what he honestly believed was right despite contrary popular opinion. He lead by example by following his own sage advice like "Excuses don't produce results" and so many others. His memory shall remain ever alive as we keep the light burning on the torch this "Old Geezer" has passed to us.
A celebration of Howard's life will be held at a later date when we can more safely meet, with Howard and Sally's ashes interred together representing the oneness of the love they shared for nearly 70 years.
In lieu of flowers, gifts honoring Howard's life and his loving service to others may be directed to the Avoca United Methodist Church (607-566-4045 – AvocaUMChurch@gmail.com), New England Music Camp/Snow Pond Center for the Arts (https://snowpond.org/nemc/donate), or a charity of your choice.
The Avoca Funeral Home, 22 N. Main St., Avoca is honored to assist Howard's family with the arrangements.
Online condolences or remembrances of Howard are welcomed on the Facebook page of Bishop & Johnson Funeral Home, Inc.
Subscribe to receive updates