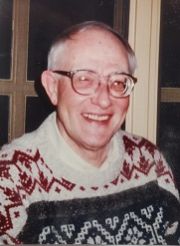 | | |
| --- | --- |
| Date of Birth | March 8, 1929 |
| Date Deceased | February 10, 2021 |
| Hometown | Hammondsport |
| Home State | N.Y. |
HERMAN R. HEYTMEIJER
HAMMONDSPORT-Herman R. Heytmeijer, 91, passed away Wednesday (Feb. 10, 2021) at the Taylor Health Center in Bath.
Born on March 8, 1929 in Zeist, the Netherlands, he was the son of Herman and Reintje (Vlijn) Heytmmeijer.
Herman graduated from the University of Utrecht in the Netherlands, with a degree in Chemical Engineering.
He emigrated to the United States in 1956 and went to work for Westinghouse in Bloomfield, N.J. where he developed several patents. In 1987 he moved to Hammondsport, N.Y. and went to work with Phillips Lighting in Bath, N.Y.
Herman married Barbara Coffin in 1961; they celebrated 59 years of marriage on Dec. 2, 2020.
He is survived by his wife, Barb; daughter, Susanne Schmidt; granddaughter, Kyle; grandson, Chris; daughter, Jeanne (Porter) Dunn; grandson, Chase; granddaughter, Annika; his sister, Ingrid van Velzen; nephew, Eric; niece; Mireille; their children, Elle, Sofie, Daan and Fabian; his cousins, "Bink", "Willy", Rita (Bill) Petrocine; their children, Kirsten, Kyle and Sara, Ken (Kim) van Lecuwen; their children, Katie and James; Kaija (Josh) Johnston; their children, Natalie and Bryce; and Cole Dinse.
He is predeceased by his son-in-law, Brian Schmidt; his brother-in-law, Arle van Velzen; his cousins, Meip and Jake van Cuilenburg and Kitty (Tom) Dinse.
Herman was an avid reader of World History; a long time member of the National Rifle Association (NRA) and the Glenwood Club. He loved boating on Keuka Lake with family and friends and walking his dog, "Ruby."
There will be no calling hours. A Celebration of Life will be held at a later date. Donations in Herman's name may be made to the Finger Lakes SPCA, 72 Cameron St., Bath, N.Y. 14810.
The La Marche Funeral Home, 35 Main St., Hammondsport is honored to assist Herman's family with the arrangements.
Online condolences or remembrances of Herman are welcomed on the Facebook page of Bishop & Johnson Funeral Home, Inc.
Subscribe to receive updates