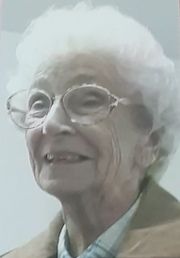 | | |
| --- | --- |
| Date of Birth | September 14, 1929 |
| Date Deceased | April 28, 2022 |
| Hometown | Hammondsport |
| Home State | N.Y. |
| Service Date | May 11, 2022 |
| Service Time | 11 a.m. |
| Service Location | Bishop & DeSanto Funeral Home, Hammondsport |
| Interment Location | Bath National Cemetery |
ELIZABETH H. "BETTY" BAILEY
SEP. 14, 1929 – APR. 28, 2022
HAMMONDSPORT – We are both sad and joyful that our mother/grandmother, Betty Bailey, passed away peacefully during her 5 months stay at Taylor Health Care Facility.
Betty was born at home in Pleasant Valley to Maurice G. and Martha J. Hoyt. As a young person, Betty's passions were music and riding horses. Betty had been accepted to Julliard School of Music for her vocal ability but chose instead to marry her HS sweetheart & love of her life, Bill Bailey. They became engaged in 1945 and married in 1947. They both loved riding horses, being with their friends & dancing together. They were inseparable for nearly 66 years until Bill passed away in 2013.
As an adult, Betty loved her children, cooking, looking into her family's genealogy, maintaining two large gardens, and keeping her home immaculate. Betty worked for her grandfather at the Hammondsport Pharmacy right after she graduated. She worked several different part time jobs while raising her 3 children, then was hired as secretary at Pleasant Valley Winery in the Advertising Department for 14 years. After retirement she worked during several Christmas seasons at Cohn's Clothing in Bath, NY. Betty began a Girls Club over 70 years ago. This group started out with over 30 women from the Hammondsport/Bath areas, meeting monthly. Four of her closest friends from that club remain: Carol (Jim) Jenkins; Arlene (Bill) Brundage; Marie (Bob) Bailey; and Shirley (Dick) Para.
Betty accepted the Lord Jesus Christ as her Savior in her 40's. When asked by her son why she hadn't done this before, she told him, "I was looking, but just couldn't him!" After her "rebirth," Betty became very active within her church singing, putting on dinners, attending Bible studies, and all out generally helping. Betty & Bill began spending winters in Lakeland, FL after 1985 were again she was involved this time in a 200-member choir for 22 years. She continued to sing in a choir locally, met with her Girl's Club, canned her tomatoes, get "bossed" around by her cat, read her Bible & prayer for her family until she became ill.
Betty is predeceased by her parents Maurice G. Hoyt, in 1996, and Martha J. Hoyt in 2002; her brother Richard Hoyt in 1930 (passed at birth); two sisters Maureen H. Schrier, in 2009, and Jennette H. Kuhlmann in 2021; eldest son Dennis W. Bailey, in 2014; and her "favorite" son-in-law Bill Lower, in 2018.
Betty is survived by her second son David (Barbara) Bailey of Midway, AK; daughter Bonnie Lowery of Bath, NY; 5 grandsons, Bryan (Michelle) Bailey, Adam (Kelly) Bailey, Benjamin (Serena) Wright, Patrick (Maxine) Wright, and Philip (Sabrina) Wright; 2 great grand-daughters Ashley & Kylee; 6 great-grandsons Alex, Christopher, Reece, Luke, Chase & Joseph; brother-in-law Ted Bailey; and too many nephews & nieces to count!
Betty's one desire and prayer was that all her children, grandchildren, great-grandchildren, extended family, and friends would get along with each other, and more importantly know and accept Jesus as their Lord & Savior.
At Betty's wishes there will be no calling hours. A funeral service will be held at Bishop & DeSanto (formerly Lamarche) Funeral Home, 35 Main St., Hammondsport, NY 14840 on Wednesday, May 11, 2022, at 11 am, with Pastor Dale Kee presiding. In lieu of flowers the family asks that donations be made to Avery Mallaber Maggio, 6763 Gardner Road, Bath, NY 14810, for her continued animal foster care and rehoming program.
The Bishop & DeSanto (formerly LaMarche) Funeral Home is honored to assist Betty's family with the arrangements.
To leave your own personal remembrance or condolence you may click on the link below or visit the Facebook page of Bishop-Johnson & DeSanto Funeral Home.
Subscribe to receive updates