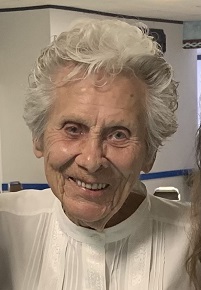 | | |
| --- | --- |
| Date of Birth | November 20, 1920 |
| Date Deceased | August 6, 2022 |
| Hometown | Dansville/Conesus |
| Home State | NY |
ELEANOR ELIZABETH GERBER
1920 – 2022
Eleanor Elizabeth Gerber, nee Knapp, 101 years, passed away Saturday evening, 6 August 2022 at St. James Hospital in Hornell, New York (Seneca Road facility).
Eleanor was born on 20 November 1920 in Dansville, Livingston, New York to parents Elizabeth (Bess) Cline Knapp (nee Ingalls) and Carlos Everest Knapp.  She spent her childhood years growing up in Dansville at the family home at 21 Pine Street.
Following her graduation from Dansville Central Schools in June, 1938, Eleanor continued her education at the high school for two additional years in what was then referred to as post-graduate studies.  She enjoyed music and excelled at playing violin, piano and cello; cello being her favorite instrument.  She sang alto in chorus and for many years before and after high school performed with her mother and family friend Marian Dolan at countless gatherings:  Lincoln Day dinners at the Presbyterian Church, weddings, funerals, family reunions and many other occasions.  She was also a member of the church's bell ringing choir.  During her childhood, her mother Bess performed at the Star Theatre in Dansville, providing sound for the early silent movies.  Eleanor carried the sheet music as a means of getting into the theater for free to watch the films.  As a teenager she also worked at the PC Hotel, known in earlier days as Our Home on the Hillside.
On 30 December 1943 Eleanor married Vincent Joseph Gerber in a ceremony at St. Mary's Church in Dansville.  At the time, Vin was home in Dansville for a brief leave from his training in Camp Perry, Virginia, while serving with the United States Navy Seabees in World War Two.  Vin would later go on to train in Davisville, Rhode Island before sailing to the Mediterranean Sea to serve with the Seabees during the D-Day invasion in June, 1944, and then later in Okinawa, Japan during the final months of the War.
Eleanor and Vin raised two children, Lois and David, while living at their residence at 17 Cottage Street in Dansville, but in 1949 they constructed a cottage on Conesus Lake.  It was there that the family spent their summers.  Eleanor called the cottage her home for all of her retirement years, when not wintering in Ft. Myers, Florida where she and Vin purchased a home in 1979.  Vin, who was born in Dansville on 18 January 1921, passed away at the Livingston County nursing facility in Mt. Morris on 4 September 2004.
Eleanor was passionate about sports; all sports.  Her father Carlos Knapp's family owned and published the Dansville Breeze newspaper for many years, and he went to great lengths to publish hundreds of his daughter's sporting achievements.  As a member of the high school track team and bowling team she won numerous trophies.  Following high school she joined the town bowling team, the Beta Sigma Phi Sorority, the Altru Circle, often known as the Tri C Club, the local bridge club, and served as a Welcome Wagon Lady.  In later years she became a member of the Daughters of the American Revolution (DAR).
During her 43 years in Ft. Myers as a winter resident, she was a member of Poinsettia Park's Shuffle Board team and bowling team.  She was a devoted Buffalo Bills fan, but would often video tape their games – admitting that she could only watch them once she knew whether they had won their latest game.  Her baseball loyalties wavered between the New York Yankees and the Boston Red Sox.
Another passion in her younger days was hunting.  On a Sunday evening preceding the delivery of her daughter Lois, Eleanor was out hunting woodchucks with her brother Ken Knapp.  Once home a few days later a co-worker of Vin's at Foster Wheeler, Red Freeman, saw her out mowing the lawn and took time out from his errands to finish the job.
Eleanor is survived by her two children, Lois Ellen Bulger and Scot Marechaux and David Carl Gerber, a nephew Richard Knapp, former son-in-law Robert F. Bulger, former daughter-in-law Mary Honan Gerber, her four grandchildren Scott Bulger, Julie Bulger, Beth Gerber and Benjamin Gerber, six great-grandchildren, and her many friends both in the Dansville/Conesus area and at Poinsettia Park in Ft. Myers, Florida.
There are no calling hours.  A memorial service will be arranged at a later time.
The Bishop-Johnson & DeSanto Funeral Home, 285 Main St., Hornell is honored to assist Eleanor's family with the arrangements.
Online condolences or remembrances of Eleanor are welcome in the comment section below or on the Facebook page of Bishop-Johnson & DeSanto Funeral Home.
Subscribe to receive updates