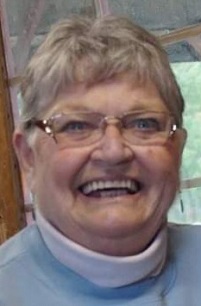 | | |
| --- | --- |
| Date of Birth | October 28, 1936 |
| Date Deceased | June 16, 2023 |
| Hometown | Hornell |
| Home State | N.Y. |
| Service Date | June 27, 2023 |
| Service Time | 11 a.m. |
| Service Location | Sovereign Grace Baptist Church, Hornell (Big Creek Road) |
Doris Suzanne Goff Knapp
 HORNELL – In her waning years, Doris Suzanne Goff Knapp, 86, was home in the loving care of her son, Clint. She took her last breath with him present on Friday, June 16, 2023. Sue, sometimes Suzy, lived a rich and full life with much laughter and activity.
Born on October 28, 1936, Suzy was the eldest daughter of Doris (Brown) and Fitch Goff of North Hornell, NY. As a child, you would often find her climbing trees and exploring. As an adult, Sue used to take her children hiking in the Steuben County hills. If you were lucky enough to be her friend, you were blessed by her quick wit and sense of humor.
As mother to four children, Sue also worked 40 years in Hornell for Dr. John Coyle. She was trained in phlebotomy and as a certified medical lab technician. Sue joined her husband on the rodeo circuit, where she enjoyed barrel racing.   She and her husband also enjoyed golfing. Sue was a member of Twin Hickory in Hornell, where she achieved a Hole in One. An avid reader of many genres, science fiction and fantasy being some of her favorites, Sue also volunteered at the Hornell library for years and served on their Board for some of them. In her retirement, she became an entrepreneur in partnership with her daughter, Cindy, taking care of insurance billing for various doctors in the area.
In addition to her parents, Suzanne was predeceased by her husband, Richard S. Knapp; her elder brothers, Robert McCabe and Peter McCabe; brother-in-law, Ron Ordway; son-in-law, Thom Berry; granddaughter, Putri, and great-granddaughter, Gillian.
Sue is survived by two sisters, Lora Ordway of Hornell and Judith (Bob) Corvino of Maryland; four children, Cynthia Berry (Jim Gardon) of Ocala, FL, Clint Knapp of Hornell, Tracy (Tom) Cassidy of Birdsall, and Theron Knapp (Yuli Lestari) of New Jersey; 11 grandchildren, Nicolette (Brad) Fisher of Florida, Thom (Maddie) Berry of Pittsburgh, Suzie Berry (Luke Nobles) of Canisteo, Jesse (Regina) Knapp of Florida, Daniel Knapp of Massachusetts, Madison (Harley) Cobin of Hunt, NY, Ryan (Sharlyn) Cassidy of Florida, Jamie Cassidy of New Orleans, Tanis (Dani) Cassidy of California, Ashley Cassidy of North Carolina, and Jasmine Knapp of Indonesia; 23 great-grandchildren; numerous nieces, nephews, cousins, and many, many blessed friends.
Upon learning of her death, grandson Jamie was inspired to write this short poem in her honor:
"She wore the moon on her crown
and the stars all bowed
as the grace of their earthly sister,
now home to shine bright,
a guardian in the night.
Look up and smile,
See the twinkling light of her love,
ever bright for those dear to heart."
A memorial service in celebration of Sue's life will be held at the Sovereign Grace Baptist Church, 2714 County Route 70A (Big Creek Road) at 11 a.m., Tuesday, June 27, 2023, with Pastor James Anderson officiating.
In lieu of flowers, those wishing may contribute in her memory to the Hornell Public Library, 64 Genesee St., Hornell, NY 14843. Envelopes for memorial contributions will be available at the church.
The Bishop-Johnson & DeSanto Funeral Home, 285 Main St., Hornell is honored to assist Suzanne's family with the arrangements.
Online condolences or remembrances of Sue are welcome below in the comment section or on the Facebook page of Bishop-Johnson & DeSanto Funeral Home.
Subscribe to receive updates