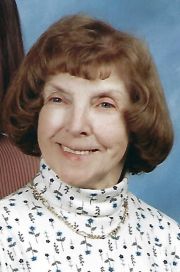 | | |
| --- | --- |
| Date of Birth | April 15, 1922 |
| Date Deceased | November 25, 2021 |
| Hometown | Hornell |
| Home State | N.Y. |
| Service Date | December 1, 2021 |
| Service Time | 1 p.m. |
| Service Location | Bishop & Johnson Funeral Home, Inc. |
| Interment Location | Rural Cemetery, Hornell |
Doris Louise MacNaughton
HORNELL – Doris Louise MacNaughton was born April 15, 1922 in Hornell to Lawrence and Florence McKibben. She died Thursday, November 25, 2021, at home, with family by her side. She married her high school football hero Murray MacNaughton April 17, 1939 and will be buried next to him in a grave plot adjacent to her beloved parents. She was one of 10 siblings, of whom one, Joan Senear , survives. She dearly loved her brothers and sisters and, later in life, cherished her role as "Aunt Doris" to generations of MacNaughton and McKibben descendants. When she married Murray, she transitioned from city girl to farmer's wife back in the day when farmers were transitioning from horses to tractors. She and Murray bought a farm on Big Creek, near Hornell, at a time when the area included many young farm couples starting families and working hard to support themselves. Life centered around the one-room country school, Grange Hall, and the Church nearby.
She always carried memories in her heart of those strong, hard working farm women who were her friend for life. She married into a big farm family headed by Murray's parents, Robert and Helen MacNaughton and including one sister and four brothers of whom one, Marvin MacNaughton survives. She has a son Robert, who lives in San Antonio, Texas, and a daughter Sue, who lives with her partner, Richard Lohr, in Youngstown, New York. As the years passed, she and Murray developed a gardening business and sold produce at the Hornell Farmers Market and roadside at their home on County Rte. 70A, Big Creek Road. When her children grew older, she started working off the farm as a waitress and cook at the Hornell American Legion. After Wegmans Supermarkets opened a store in Hornell, she was hired initially to wrap meat and by the time she retired, had worked her way up to office manager.
Upon Murray's death in 2003, she sold the farms and moved into Hornell, which was a huge transition facilitated by wonderful relatives, old friends and new neighbors. They supported her determination to live independently, as she did until the last couple of years when a devoted team of care givers pitched in to help enrich her days.
Several years ago, she and son Bob, were talking and he remarked that one of his earliest memories was of her and Annabel Bardeen rehearsing the hymn, "In the Garden" to sing at the neighborhood church. She said one of her earliest memories was of her grandmother singing that hymn while hanging clothing on a clothes line. And now, for her, as her life has ended, the hymn says it well: "I come to the garden alone, while the dew is still on the roses, and the voice I hear, falling on my ear, the Son of God discloses." Doris was a wonderful gardener, homemaker and terrific cook. For sure, as she arrives in the House of the Lord, there better be a good vacuum cleaner and an oven, because she is going to keep the Streets of Gold immaculate, and she will certainly be baking cookies.
The family will greet relatives and friends from noon – 1 p.m. Wednesday (Dec. 1, 2021) at the Bishop & Johnson Funeral Home, Inc., 285 Main St., Hornell where a funeral service will take place at 1 p.m. Wednesday with the Rev. Katherine Griffis officiating. Face masks will be required at the funeral home. Thank you for understanding. Committal services and interment will follow at Rural Cemetery, Hornell. The services will be live streamed and may be seen either on the Facebook page of Bishop & Johnson Funeral Home, Inc. or on the homepage of www.bishopandjohnsonfuneralhome.com (please see link for live stream) for 30 days beginning at 1 p.m. Wednesday (Dec. 1, 2021).
In lieu of flowers, those wishing may contribute in her memory to CareFirst (Hospice), 3805 Meads Creek Road, Painted Post, NY 14870. Envelopes for memorial contributions will be available at the funeral home.
The Bishop & Johnson Funeral Home, Inc is honored to assist Doris' family with the arrangements.
To add your own personal remembrance or condolence you may click on the link below or visit the Facebook page of Bishop & Johnson Funeral Home, Inc.
Subscribe to receive updates