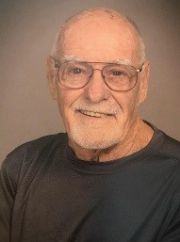 | | |
| --- | --- |
| Date of Birth | February 26, 1938 |
| Date Deceased | November 16, 2021 |
| Hometown | Avoca |
| Home State | N.Y. |
Donald N. MacDougal, Jr.
AVOCA- Donald N. MacDougal, Jr. age 83, passed away Tuesday morning, (Nov. 16, 2021), exactly a year and a day after the death of his wife of 63 years, Patricia (Armstrong) MacDougal. He spent the last five days of his life at Gulfside (Rucki) Hospice Center in Zephryhills, Florida following a recent diagnosis of pancreatic cancer.
Born in Caribou, Maine on February 26, 1938, he was the son of the late Pauline (Burkle) and Donald N. MacDougal, Sr.. He relocated with his family to NYS as a young child and graduated from Avoca Central School in 1956 where he was active in sports and held the shotput record for over 30 years. Donald served in the US Coast Guard on the USCGC Tupelo from 1956-1960 maintaining aids to navigation and performing search and rescue, law enforcement and ice breaking on Lake Erie. It was during this time (March 15, 1957) that he married Patricia, his life-long sweetheart.
After returning to Avoca in 1960, Donald briefly worked construction before going to work at Great Western Winery in 1961. He remained employed at Pleasant Valley Wine Company when it was subsequently acquired by Taylor, Coca-Cola, Seagram's, and Vintner's and wore many hats before retiring as Director of Champagne and Still Wine Bottling in 1994. He later served as a consultant for a short time but after retiring, he spent his time between his home in Avoca and his home in Zephyrhills, Florida and enjoyed playing golf and visiting casinos. In his younger years, Don spent many summers waterskiing at the family cottage on Keuka Lake and snowmobiling the hills of Steuben County. He was also an avid tennis player, deer hunter, and pool player and the most feared and formidable opponent in family games of pitch and euchre. Don loved to travel and he and Pat took many trips across the country and into Canada with special love for the Florida Keys and the Dakotas.
Besides his parents and his wife, Donald was predeceased by his sister, Nancy Owens (Norman) and his granddaughter, Sara Beth Schoonmaker. He is survived by his sister, Patsy Wilson (Laverne); his daughters, Pamela Schoonmaker (Ted) of Lexington, NC, Terry Massey (David) of Atlanta, Ga; his son, Gregory MacDougal (Pam) of Raleigh, NC, three grandchildren, Natalie Chaney (John), Samantha Stueber (Chris), and Scott MacDougal; as well as three great-grandchildren, MacKenzie and Roman Chaney and Kaje Steuber. He also leaves behind many grieving in-laws, nieces and nephews, cousins, and friends both here in New York and in Florida, all of whom take comfort in knowing he and Pat are together again.
Relatives and friends will meet to remember them this summer, with a date yet to be determined.
The Avoca Funeral Home, 22 N. Main St., Avoca is honored to assist Don's family with the arrangements.
To add your own personal remembrance or condolence you may click on the link below or visit the Facebook page of Bishop & Johnson Funeral Home, Inc.
Subscribe to receive updates