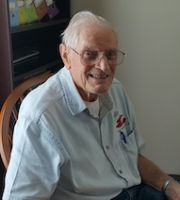 | | |
| --- | --- |
| Date of Birth | April 28, 1934 |
| Date Deceased | February 12, 2022 |
| Hometown | Bath |
| Home State | N.Y. |
| Service Date | June 25, 2022 |
| Service Location | Centenary United Methodist Church, Bath, N.Y. |
Donald H. McIntire, 1934-2022
BATH – Don McIntire of Bath, New York, died peacefully at home on Saturday, February 12, surrounded by his family and upheld by the love and prayers of many dear friends.
Don's was a life lived in service to his faith, his family, his country and his community. He was an uncommonly good and decent man, kind and generous with a wonderfully wry sense of humor. He had a soft spot for underdogs (especially during the World Series) and was equally comfortable reading a good book or wielding a chainsaw. He took his responsibilities seriously but never himself.
The second of five children by Wilfred and Mildred McIntire, Don grew up on a farm in Wayne, where he discovered his love of animals, especially horses, and the value of hard work. After graduating from Hammondsport Central School he enlisted in the Marine Corps and was sent to Korea where his job included the dangerous work of retrieving downed aircraft from the battlefield in the final days of the war. His military experience deepened his appreciation for country and sparked his lifelong commitment to civil rights.
For more than two decades, Don owned and operated McIntire Moving and Storage in Pleasant Valley, a business he bought from his future father-in-law before marrying the love of his life, Donna McCann. He later went to work for Mercury Aircraft, from which he retired in 1996. But Don was much more than the jobs he held. He was an avid volunteer for many community organizations and as a long-time member of the United Methodist Church in Hammondsport, and later Bath. He worked as a volunteer ambulance driver and served on the board of the Pleasant Valley Cemetery, where he could frequently be found tending to the grounds. He also was a longstanding member of The Ramp Guys, where he helped build hundreds of ramps for people needing wheelchair access to their homes.
Don's faith was tested with the death of his son Philip in 1992, which may explain why his favorite scripture was John 3:16, "For God so loved the world, that he gave his only begotten Son, that whosoever believeth in him should not perish, but have everlasting life." Don understood loss and love deeply, and cherished those he loved all the more for it.
Don is survived by Donna, his wife of 64 years; his son David and daughter Katherine and their spouses Michelle Allen and Ralph Peters; his four grandchildren Rachel, Eileen, Lance and Owen; his sister Ann Kost and brother Ronald and many beloved nieces and nephews. He was predeceased by his sister Martha McCann and brother John.
The family will hold a memorial service and celebration of Don's life on June 25 at the Centenary United Methodist Church in Bath, NY. In lieu of flowers, please consider sending a donation to Centenary United Methodist Church, Habitat for Humanity, or CareFirst NY hospice at 3805 Meads Creek Rd., Painted Post, NY 14870.
The Bishop & DeSanto (formerly LaMarche) Funeral Home, 35 Main Street, Hammondsport is honored to assist Don's family with the arrangements.
To leave your own personal remembrance of condolence you may click on the link below or visit the Facebook page of Bishop-Johnson & DeSanto Funeral Home.
Subscribe to receive updates