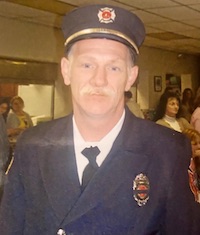 | | |
| --- | --- |
| Date of Birth | October 5, 1961 |
| Date Deceased | July 12, 2022 |
| Hometown | Bath |
| Home State | N.Y. |
| Service Date | July 18, 2022 |
| Service Time | 5:00 p.m. |
| Service Location | Hammondsport Fire Department, 8521 NY-54 |
David L. Mastin
BATH – David L Mastin born October 5, 1961, passed away at the age of 60 on Tuesday (July 12, 2022).
David Mastin lived with his niece Anna Simpson and sister Tina Simpson. David's siblings include Tina (Marty (d)) Simpson, Lisa (Paul) Hoad, Timothy (Rosemary) Mastin), Richard Mastin Jr, Keith Mastin, Shawn Mastin, Vicki Drew, Elizabeth (Mike) Walden, Lori Brown, Gregory Brown, and Vickie Marie Mastin.
David was predeceased by Richard Mastin Sr., Charlotte Mastin, Sandra Brown, Allen Brown, Randy Mastin.
David was blessed with a very large family and had several aunts, uncles, nieces, and nephews. David believed that family was always the most important thing in his life. David was employed at Pleasant Valley Winery where he formed some important friendships.  David was so proud of the work he did at this company.
David had a strong love for hunting and fishing. He was not lacking on skills in both areas. David looked forward to his yearly salmon fishing trip. David was an avid bowler and was in several bowling teams and weekly leagues. David could be found at the Hornell Bowling alley most Saturday nights.  David had a life purpose of providing service and helping others throughout his membership at Hammondsport and Kanona Fire department.  David will be remembered for selling clams at the yearly fireman's carnival.  David lived a simple life and somehow always managed to leave a lasting impression.
David had several medical conditions, but he continued to live his life to the fullest possible.  David worked hard both at his place of employment and at home.  David will be remembered at home for his daily morning routine where he would make sure everyone in the house was awake before leaving for the day.  David loved his daily coffee from the local Kwick Fill.  David's final gift to the world was his choice to be an organ donor.
Services for David will take place Monday (July 18, 2022), 5:00 PM, at the Hammondsport Fire Department, 8521 NY-54, Hammondsport, NY 14840.  Friends, family and fellow firefighters are invited to join us in a celebration of life directly after the service.
The Bishop & DeSanto Funeral Home, 35 Main St., Hammondsport, is honored to assist David's family with the arrangements.
Online condolences or remembrances of David are welcome in the comment section below, or on the Facebook page of Bishop-Johnson & DeSanto Funeral Home.
Subscribe to receive updates