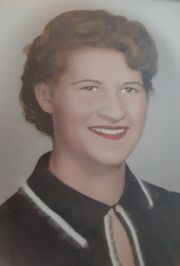 | | |
| --- | --- |
| Date of Birth | July 11, 1945 |
| Date Deceased | March 30, 2020 |
| Hometown | Kanona |
| Home State | N.Y. |
| Interment Location | Valley View Cemetry, Avoca |
Beverly "Bev" Jeanne Reinhart
Beverly "Bev" Jeanne Reinhart passed away peacefully in her home surrounded by family on Monday (March 30. 2020) after a hard fought battle with cancer. Beverly, the only child of the late Dale L DeWitt and Esther Bills of Avoca N.Y. was born July 11, 1941 and attended Avoca Central School.
Beverly is survived by her three daughters, Tina Gettings (Mike) of Prattsburgh, Carla Mlott (Will) of Canisteo, and Tammy Kane (David) of Mineral, Va.; and Jim's son, Joseph (Jessica and family). Beverly is survived by grandchildren, Kristin Trinh (Samson), Adam Heins (Korey and great-grandchildren, Emily and Katelynn), Zachary Heins (Fawn), Amberley Heins, Ileya Heins, Alexis and Nicole Mlott, Michael Kane, Brandi Gettings Owensby, Jesse Gettings, Kara Gettings and their families. She is also survived by many other loved ones and family members.
Beverly was preceded in death by her love, James "Jim" Sutton. She and Jim enjoyed traveling and working on projects in their shop. Most of all, she loved spending time with family. She often had the entire family with friends over to enjoy Sunday and birthday dinners, picnics at Mossy Bank, Easter egg hunts, and trips to Darien Lake. She babysat grandkids with great joy. She particularly loved to make the holidays special for everyone. For Christmas, Jim would make haystacks and rice crispy treats and Bev would have all the decorations out. There was some special Christmas ornament or decoration in every corner of the house, each one having a story. She always sent all of her kids, grandkids, and great grandkids a birthday card for every birthday, to let them know they were loved.
Beverly was a devoted mother who loved her family and her pets. Over the years she cared for all kinds of pets, including cats, dogs, birds, fish, chickens, geese, ducks, wild birds, rabbits, and tolerated the mice, snake, and hamsters her daughters brought home. She also enjoyed her flower gardens and often said she felt closest to God when she was tending them.
Beverly took great pride in her work as a cook at the Bath Veterans Administration, retiring in 1994. She often thought of her job there as more than a cook. She believed it was her duty to provide great-tasting, healthy nourishment for our veterans. She and her co-workers cooked delicious meals for 700 or more veterans every day. She often reminisced about how, years ago, the VA had its own butchery and bakery and how she was a part of making everything from scratch.
She will be greatly missed.
The Avoca Funeral Home, 22 N. Main St., Avoca is honored to serve the family of Beverly "Bev" Jeanne Reinhart.
A celebration of life will be held at a later date as conditions allow. In lieu of flowers, donations can be made to The Finger Lakes SPCA, 72 Cameron St., Bath N.Y. 14810, or the Kanona Volunteer Fire Department, 5931 Railroad Ave., Kanona N.Y. 14856.
Online condolences or remembrances of Bev are welcomed on the Facebook page of Bishop & Johnson Funeral Home, Inc.
Subscribe to receive updates