In Memory of
Ronald J. Mauro
---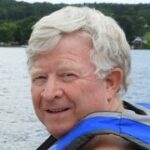 Ronald J. Mauro
ALMOND – Ronald J. Mauro, 70, passed away peacefully at his home in Almond, NY, surrounded by his family, on September 17, 2021, after a courageous 13-month battle with pancreatic cancer. Ron was born in Hornell, NY on August 30, 1951, and was the son of Salvatore and Irene (Moore) Mauro.
Ron grew up in Hornell and was a graduate of Hornell High School (class of 1969). Ron graduated from Syracuse University with B.S. (1973) and M.S. (1974) degrees in Civil Engineering. He spent over 30 years working at the New York State Department of Transportation in Hornell, including serving as Regional Structures Engineer (1984-2008), where he oversaw bridge design and engineering throughout Region 6 of New York State. Ron was highly respected by his colleagues, both for his engineering skills and for his never-failing honesty and integrity. He was recognized as Region 6 Engineer of the Year in both 1991 and 2007. Ron also spent part of his professional career at HUNT Engineers, Architects & Surveyors.
Ron married the love of his life, Margaret Suzanne "Susie" (Whitford) Mauro, who survives, at St. Ann's Church in Hornell on December 17, 1977. Also surviving are their two sons, Dr. John (Yihong) Mauro of Boalsburg, PA, and Dr. Daniel (Dr. V. Shaw) Mauro of Rockville, MD, and one granddaughter, Sofia Mauro of Boalsburg, PA. Ron is also survived by his two brothers, Thomas (Ann) Mauro of Cohocton and Robert (Pauline Shaw) Mauro of Arkport, one younger sister, Teresa (Andrew) Williams of Hornell, and seven nieces and nephews: Angela (David) Trautman, Michael (Jenn Fish) Mauro, Raymond (Shelby Hosmer) Mauro, Dr. Marisa (Charley Howe) Mauro, Nicholas (Jerry Walsh) Mauro, Meghann Williams, and Kristen Williams. He is also survived by several grand-nephews and a grand-niece: Joseph Trautman, Nathaniel Trautman, Baylie Mauro, Bentley Mauro, Rhys Howe, Rhett Howe, and Torin Howe. Also surviving are his uncles, Joseph Mauro of Hornell and Francis "Buzzy" (Donna) Mauro of Hammondsport, and by his aunts, Genevieve Lamphier of Greenwood and Laura Soble of Rochester. Ron is also survived by his special cousins-in-law, Cynthia Schultheis and Lynda (Dennis) O'Brien, both of Hornell, and their children, Matthew (Erin) Schumaker of Ontario, NY, and Dr. Bridget O'Brien of San Rafael, CA.
He is preceded in death by his parents, by his uncles, Carl Mauro, Dale Lamphier, and James Soble, Jr., and by his aunts, Jean Mauro, Anne Mauro, Marguerite Mauro, and Barbara Kelly.
Ron was a member of Our Lady of the Valley Parish in Hornell and for many years had been a communicant at both St. Ann's Church and St. Ignatius Loyola Church, where he was an altar server and eucharistic minister.
Ron was a devoted husband, father, and grandfather. He loved spending time with his family. He especially enjoyed spending summers with his family at Waneta Lake. Ron loved the lake and spent countless hours enjoying his motorboat, WaveRunner, and sailboat. Ron also enjoyed taking care of his beautiful cottage, which he designed. Ron loved hosting visitors at the lake and taking them on boat rides.
Ron also designed his dream home in Almond, where he and his family lived since 1991. He was very proud of his two sons, daughters-in-law, and his beloved granddaughter. He will be remembered fondly as a beloved husband, father, grandfather, brother, uncle, and friend. He will be sadly missed and forever loved by those whose lives he touched.
Ron's family would like to thank all of the doctors and nurses who provided compassionate care during his fight against cancer, especially Dr. Pradeep Sharda and his staff, as well as the HomeCare & Hospice of Western New York, especially for the excellent care from Lisa Gordon, RN. They would also like to thank all the dear friends, family, and neighbors who were so generous with their help and prayers during this challenging time.
Because of the COVID-19 pandemic, there will be no calling hours. Relatives and friends are invited to join his family at St. Ann's Church, 31 Erie Ave., Hornell where a Mass of Christian Burial will be celebrated at 1:30 p.m. Friday (Sept. 24, 2021). Face masks are required and social distancing is encouraged. Thank you for understanding. Committal prayers and interment will follow at St. Mary's Cemetery, Town of Fremont. The services will be live streamed and may be seen either on the Facebook page of Bishop & Johnson Funeral Home, Inc. or on the homepage of www.bishopandjohnsonfuneralhome.com (please see link for live stream) for 30 days beginning at 1:30 p.m. Friday (Sept. 24, 2021).
In lieu of flowers, the family suggests that memorial contributions may be made to: Our Lady of the Valley Parish, 27 Erie Avenue, Hornell, NY 14843; the Lustgarden Foundation for Pancreatic Cancer Research, 415 Crossways Park Drive, Suite D, Woodbury, NY 11797 or St. Jude Children's Research Hospital, 501 St. Jude Place, Memphis, TN 38105. Envelopes for memorial contributions will be available at the church.
The Bishop & Johnson Funeral Home, Inc., 285 Main St., Hornell is honored to assist Ron's family with the arrangements.
To add your own personal remembrance or condolence you may click on the link below or visit the Facebook page of Bishop & Johnson Funeral Home, Inc.
---
Online Remembrances
Mindy Jackson VanKeuren says:
I was saddened to hear about Ron. I have known him all my life. I didn't realize he was ill. What a nice man he was. My sympathy to his family.
---
Sandy Hunt says:
My deepest condolences and heartfelt sympathy to the Mauro family. Ron was such a gracious, gentle, nice man; summers at Waneta always a joy with Ron (and the Mauro's) as our neighbor(s) ... bonfires, the birthday tosses into the lake, inner tube games of chicken, labor day parties, etc. Ron will be missed, but his spirit will remain in the lives he touched.
---
JAMES HANSELL ADAIR says:
My condolences. I only met Ron a short time before his death. However, it was immediately obvious that he was a fine man, Father and Husband. He approached his treatment for cancer the way he conducted himself throughout his life, with dignity, honor and grace as he fought this terrible disease. May God bless Ron and his family.
---
Linda Staiger says:
Sometimes things just don't seem fair. Ron was always the most pleasant, kind man..very proud of his family at school events. Thank you got your kind presence, Ron. God bless Susie, John, Dan, Teresa and the Mauro family.
---
Susan & Harris Newman says:
So sorry to hear of Ron's passing. Losing a family member is so difficult and we hope all of you find comfort in beautiful memories. God Bless.
---
Jerome O'Connor says:
Ron was unquestionably the most respected person at the DOT Regional office but I can attest to the fact that he was recognized as a leader statewide as well. Everyone he dealt with respected his professional opinions and the unassuming manner in which he expressed them. I have heard Ron referred to as a saint by more than one person over the years that we worked together. Ron, it was an honor to know you, learn from you what a real gentleman is, and to share many days of our lives together. May God bless you and your family.
---
Cristina Donahue says:
I was so sorry to hear of Ron's illness and passing. I had the joy of working with Ron in his later years at Hunt. He was such a nice man and it was obvious through his stories how much he loved his family and how proud he was of his sons and granddaughter. My condolences to the family for the loss of a such a good man.
---
Jim and Pat Bishop says:
Our deepest condolences, Susie. May the beautiful memories help you at this difficult time. Our hearts reach out to
you and your family. God bless you.
---
Tom Secondo says:
Ron was a remarkable man, blessed with a fine mind an recall, that was always amazing to his coworkers at the DOT. His attributes as a human being were even greater. We all along with his family will miss him, and pray that God will reward him in eternity
---
Betty Wing says:
Words fail as I try to just let you know I am thinking of you. A pretty amazing family picture here. Incredible care, much love, family, faith in God, friends… so many blessings. I love you
---
Arun Varshneya says:
Darshana and I are extremely saddened to hear of Ron's passing. I am personally grateful to Ron for having "loaned" me his two sons, John and Dan, to mentor through college years. It was a great pleasure advising John through his doctorate. He is a true pride for me. Thanks, Ron. I can see the solid character both John and Dan have as your legacy. Even "little" Sofia is such a wonderful person. Ron, though you are gone, know that you as a civil engineer did build a great foundation support of close friends and well-wishers for the family you leave. We will remember you but miss you also.
---
Tom Flanders says:
We had so many great times with Ron and his parents at their lake home when we were in high school. His Dad was just a character with all of us and Ron loved "sailing" evan back then.

Just a great friend
---
Janet Painter says:
So sorry. I had many classes with Ron and remembered him as being a sweet, thoughtful fellow and also a bright one.
---
Bishop-Johnson & DeSanto Funeral Home, Inc.
285 Main St., Hornell, NY 14843
(607) 324-2700
All rights reserved. This obituary is also archived at bishopdesanto.com
Bishop-Johnson & DeSanto Funeral Home, Inc.