In Memory of
Patricia Kay "Pat" LaPiana
---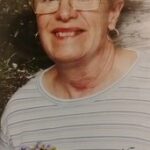 Patricia Kay "Pat" LaPiana
January 25, 1944 – August 19, 2022
"She loved life and life loved her right back…"
NORTH HORNELL-Patricia Kay "Pat" LaPiana, formerly of Seneca Road, North Hornell, was born in Hornell January 25, 1944 and passed away on Friday, August 19, 2022.
She graduated from Hornell High School in 1962 and Geneseo State College in 1966 with a degree in Education. Pat received a Master of Education degree as well. Her passion was teaching, and she spent 34 years with the Canisteo School District, educating and enjoying "her kids" in the 1st and 3rd grades. Pat, the educator, was respected and endeared by her students and colleagues.
Pat was a voracious reader and a fan of the theater and most other forms of entertainment. She loved to travel and was ready to take a drive or board a plane on a moment's notice. "My bag is always packed" was her motto.
Pat was also an active, lifelong parishioner of Our Lady of the Valley Parish and was a communicant of St Ann's Church in Hornell.
She was predeceased by her parents, Vincent and Clare LaPiana and her sister, Joyce. She is survived by her sisters, Margaret Volpe and Constance (Bill) Rempe as well as five nephews, a niece, five great  nephews and four great nieces.
There will be a graveside service at 1 p.m. Saturday (August 27, 2022) at St. Ann's Cemetery in Hornell. All are welcome to attend.
The service will be live streamed and may be seen on the Facebook page of Bishop-Johnson & DeSanto Funeral Home for 30 days beginning at 1 p.m. Saturday (Aug. 27, 2022).
In lieu of flowers, donations in Pat's name may be made to The Alzheimer's Association, Rochester and Finger Lakes Region Chapter, 2000 Meridian Centre Blvd., Suite 110, Rochester, NY 14618.
The Bishop-Johnson & DeSanto Funeral Home, 285 Main St., Hornell is honored to assist Pat's family with the arrangements.
Online condolences or remembrances of Pat are welcome below in the comment section or on the Facebook page of Bishop-Johnson & DeSanto Funeral Home.
---
Online Remembrances
MaryLee Napier says:
So sorry to hear about Pat! I Taught with her for almost 10 years. Pat was a character… we had fun in first grade with her. Have always remembered her asking me to reach something or put something away up high since I was about a foot taller than her! RIP Pat!!
---
Patty Soper-Oakes says:
I am very sorry to see that Pat has passed! I gave her many rides to AAUW meetings. May she rest in peace.
---
Maureen Ryan - Steve Cummings says:
Volpe family,
May God keep and comfort you during this difficult time as only He can. We only met Aunt Pat a few times but her love of family and zest for life will be remembered always.
---
Rich Decker says:
Pat was a sweet and wonderful person, and I am so sorry to hear of her passing. I will be forever grateful that we re-connected later in life, as she was the glue that kept me close to the loving LaPiana Family. Clare, Vinny, Pat, and all her Sisters took care of me when I was a small boy, and nurtured me like a baby Brother.

My love to Connie and Margaret, and I'm sure Pat is in a better place.

Rich Decker
---
Teresa Wachter says:
I am so grateful to Pat for teaching a member of my family to read. Our grandson is mentally challenged and she performed a miraculous job in teaching him reading, while the family had struggled to aid him in this matter. Today, he is gainfully employed , thank you Pat. Though I did not know you personally, I am forever grateful for your patience and talent.
---
Diane Fucci says:
My deepest sympathy to all of Pat's family. I had the privilege of knowing Pat and being her friend as well as her weekly stylist. She had a heart of gold and a happy demeanor every time I'd see her. She cherished her family, her sisters and their grandchildren. Her favorite was her visits with them. I've missed her since her move to Farmington. I am so sorry to hear she has passed. My deepest sympathy to you all.
---
Joanne Danaher Chaison says:
Pat was special. Kind,dedicated to her students, adventurous,adored her wonderful family. Pat had a joyous life and may she now Rest In Peace.I will always remember Pat, my hornell high School friend of many years .
---
Mary Jane Lloyd says:
I graduated from Hornell High School with Pat (class of 1963)
She was always a ray of sunshine and optimism.
Even after her years of teaching she enjoyed tutoring grade school children.
We both belonged to the Alfred Hornell branch of AAUW, and I would often call on a willing
Pat to help judge the 4th grade essay contest.
I am so sorry about her passing and send my deepest condolences to her sisters and families.
RIP Pat.
---
Lynne Roach-From says:
I was so very sorry to hear of Miss LaPiana's passing. She was such a lovely person and will be missed by many.
---
Connie Rempe says:
Rich I'm so pleased to hear from you . You were the baby brother we never had. Pat was so pleased you two had reconnected. She had really been struggling these last few years and is definitely in a better place.

Fondly,
Connie
---
Arlene Spitulnik Jablon says:
I feel lucky to have grown up with Pat. She was a shining example of kindness. So sad to hear of her passing
---
Rich Decker says:
Hi Connie,

Your reply made my evening. Pat was such a sweetheart, and I loved all of you. I'm now your 72 year old "baby brother", and I cherish my memories of the love your family gave me as a little boy. Your Mom and Dad were the sweetest people on earth, and I LOVED seeing Clare a couple times before she passed. What a doll.

Love to all,
Rich
---
Carol Roe Dickey says:
My condolences to Pat's family. She was a sweet and caring woman whose life touched many people through the years.
---
Jean Brown says:
We did have fun. I still can picture her with a clown face & costume when the 1st grade teachers dressed up for circus day. She was a very dedicated teacher and good friend.
---
Sue Fisher says:
I miss my dear friend Pat. She and her family were so loving and kind to me and she will forever be in my heart. RIP Pat "I LOVE YOU"
---
Nancy Vanni says:
I often talk of Pat & the wonderful LaPiana family. I spent my school years up to 9th grade in Norh Hornell. Got to visit Pat 25
or so years ago and we had some good laughs. I'm so sorry that funny, vibrant woman is gone.
My family lived next door to Grandpa, Grandma & Aunt Ellie LaPiana..wonderful family.
---
Bishop-Johnson & DeSanto Funeral Home, Inc.
285 Main St., Hornell, NY 14843
(607) 324-2700
All rights reserved. This obituary is also archived at bishopdesanto.com
Bishop-Johnson & DeSanto Funeral Home, Inc.