In Memory of
Mildred A. McAnany
---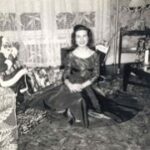 Mildred A. McAnany
HORNELL – Mildred A. McAnany, 90, a longtime resident of Hornell, passed away Friday afternoon (July 10, 2020) at her home in Morgan Estates Assisted Living in Geneseo, N.Y., where she resided for the last four years.
Born Oct. 21, 1929 in Mt. Vernon, N.Y., she was the daughter of Frederick and Mary (Kerley) Schwartz. On Sept. 26, 1953 she married John E. "Jack" McAnany who predeceased her in 2004 after 51 years of happiness together. Besides her parents and husband, she was also pre-deceased by her sister, Marian Israel.
In addition to being a homemaker, Mildred was the "Welcome Wagon Lady", proprietor of the "New Glass Collector's Corner" and a founding member and President of "Historic Hornell". She was recognized with the "Paul Malo Award" by the Landmark Society of Western New York for her work preserving historic buildings in Hornell. Mildred was a former communicant of St. Ann's Church in Hornell and an active member of S.S. Brendan and Jude Parish in Almond N.Y.
Millie and her husband Jack enjoyed the simpler moments in life including their front porch at night along with traveling together whether it be a day trip to East Aurora or a vacation to Ireland. Millie enjoyed her Tuesday morning breakfasts at The Country Kitchen with her fun-loving Red Hatters. An ice cream aficionado, Millie enjoyed having ice cream at Jenkins Farm Market as is known as a "two sundae a day gal".
Her loving family includes her four children, John S. (Deborah) McAnany of Cuylerville, N.Y., Paul E. (Jeanne) McAnany of Hornell, Eileen A. (Michael) Dill of Greece, N.Y. and Mark J. (Elaine) McAnany of Churchville, N.Y. ; 13 grandchildren, John F. McAnany, Meghan Simms-Talton, Joshua Hart, Michael McAnany, Erica Brady, Patrick (Jenny) McAnany, Steven McAnany, Maureen McAnany, Lauren Incardona, Michael Incardona, Ryan McAnany, Kyle McAnany and Erin McAnany; 11 great-grandchildren; as well as many, loving nieces and nephews and wonderful friends.
The family of Mildred McAnany thank the staff at Morgan Estates Assisted Living and Livingston County Hospice for the wonderful care and compassion given to Millie.
The Bishop & Johnson Funeral Home, Inc. 285 Main St., Hornell is honored to serve the family of Mildred A. McAnany.
There will be no calling hours. A private Mass of Christian Burial will be celebrated at St. Jude's Chapel in Alfred, N.Y. at the convenience of the family. Committal prayers and interment will follow at St. Mary's Cemetery, Town of Fremont.
All services will be live streamed and may be seen either on the homepage of www.bishopandjohnsonfuneralhome.com (please see link for live stream) or on the Facebook page of Bishop & Johnson Funeral Home, Inc. for 30 days beginning at 11 a.m. Wednesday (July 15, 2020).
In lieu of flowers, those wishing may contribute in her memory to the Hornell Public Library, 64 Genesee St., Hornell, N.Y. 14843 or any charity of the donor's choice. choice.
Online condolences or remembrances of Mildred are welcomed on the Facebook page of Bishop & Johnson Funeral Home, Inc.
---
Online Remembrances
Brenda Hallenbeck says:
I have fond memories of Mrs. McAnany as she always welcomed me to play in her home with Eileen. Mildred was a very kind and gentle person with a sweet spirit. I remember her saying "Remember: we all saints in the making!". She raised a lovely family. I think of you all now.
Sending sincere condolences.
---
Coreen Hallenbeck says:
My sincere condolences to the McAnany family. I remember first meeting the McAnanys when they came to dinner after arriving in Hornell for Jack's job at DOT. My long friendship with Mildred started with the many good times raising our families together. We will miss her but we are thankful for having known her.
---
Karen Argentieri Lee says:
I just recently celebrated 50 years of friendship with Mildred's daughter Eileen, my BFF. I have such fond memories of Mrs. McAnany and the McAnany household. Their household, like mine, was a gathering place for us kids and Mrs. McAnany was always there! From telling us the latest household tip she'd discovered to showing us how to "roll away flab" with a rolling pin, she was the quintessential "stay at home mom". She was also extremely intelligent and would engage in deep discussions with us on all sorts of topics. The McAnany house also had something that my household did not....brothers! This consequently led to so many laughs and fun times! I always felt like part of their family and I truly respect the wonderful family Jack and Mildred raised. Because my parents both died long ago, it was invaluable to me to know that I still had an elder around who was such a wonderful matriarch. Though I moved around a lot as an adult and we weren't able to see each other very often, Mrs. McAnany and I always kept in touch with Christmas cards. Even after I had stopped sending Christmas cards as a tradition to other people, Mildred and I never missed a year exchanging with each other. I will never forget Mrs. McAnany's kind support when my mother died and how it just felt good knowing she was around. At my second marriage after having been widowed a few years previous, I was lucky enough to have Mildred and Jack at my wedding (just a few months before Jack passed away). Mrs. McAnany took photos and gifted me later with a photo album of my wedding from her point of view. At the back of the album was an inscription that stated her advice to us as newlyweds and it read, simply, "Be kind to one another" I send my love to my BFF Eileen, Jack, Paul, Mark and their families, and am so glad to know that Jack and Mildred are together again.
---
Mike and Cheryl Warren says:
In 1972 we moved to Hornell....new parents, new job, didn't know anyone...but one morning there was a knock at our door and a smiling Mildred, the Welcome Wagon Lady, greeted us. During the next years she introduced us to Hornell and the surrounding area. Always a smile and ready answer. She was a gem and we know you will miss her. Thoughts and prayers to all of you.
---
Dom Martello says:
Jack and Debbie so sorry to hear about the passing of your Mom. Read about it in today's Livingston County News. Sounded like she lived 90 wonderful years. Our condolences to you and all of your family. Dom and Ann Martello
---
Joseph Bob says:
Sorry to hear of Mildred's passing, I was honored to have known her and Jack and worked with them on the original Hornell Beautification Committee. Had many wonderful discussions with them both. My thoughts, prayers and condolences to her family. Hornell is a better place because of her love and committment to the community.
---
Marguerite Mayes says:
Please accept my condolences in the passing of my swimming buddy Millie.
We had a wonderful times together, She will be missed.
---
Bob Lukasiewicz says:
I am so sorry for your loss. I have such fond memories of stopping by your home and always being welcomed by your mom and dad. Seems like only yesterday.Paul, Jack, Mark, and Eileen, my thoughts are with you at this very sad time.
---
Bishop-Johnson & DeSanto Funeral Home, Inc.
285 Main St., Hornell, NY 14843
(607) 324-2700
All rights reserved. This obituary is also archived at bishopdesanto.com
Bishop-Johnson & DeSanto Funeral Home, Inc.