In Memory of
Junior C. Gibson
---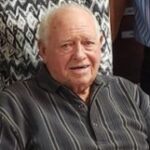 Junior C. Gibson
PULTENEY – Junior C. Gibson, 92, of Pulteney, passed away peacefully in the comfort of his home on Friday (March 18, 2022).
Born in Pulteney, N.Y. on December 30, 1929, he was the son of the late Edward and Dorothy (Cole) Gibson.
A graduate of Prattsburgh Central Schools he was a lifelong resident of Pulteney.
On November 25, 1948, he married Geraldine Preston, at the home of her parents on Neils Creek Road in Avoca. They then proceeded to have two sons and two daughters.
Throughout the years he was employed as a farmer, with the Town of Pulteney Highway Department, the Steuben County Highway Department, and ultimately retiring from the N.Y. State Department of Transportation in 1991. After retiring he continued with his passion of being an owner-operator of his vineyard.
He was a former firefighter with the Pulteney Fire Department for 64 years, where he was honored with receiving the Fireman of the year award. He also was a member of the Masons.
His hobbies included bowling, mowing the lawn, casino trips, playing euchre, and his morning trips to Keuka Corners, in Branchport, to visit with the guys and staff.
His loving family include his four children, Edward, Terry, Vicki, and Sherri; three grandchildren Samantha, Chris, and Stephanie; four great-grandchildren Jacob, Parker, Dominique, and Hunter; one great-great-grandchild Layana; one sister-in-law, Elaine; and several nieces and nephews.
He was predeceased by both parents Edward and Dorothy; his loving wife Geraldine; grandson Donald Cole Howe; siblings Joyce Gibson, Joan Putnam, Janice McAllister, and Jerry Gibson.
The family will greet relatives and friends from 3:00 p.m. – 6:00 p.m. on Friday (March 25, 2022) at the Bishop & DeSanto (formerly LaMarche) Funeral Home, 35 Main St., Hammondsport where a funeral and committal service will be held Saturday (March 26, 2022) at 11:00 a.m. with the Rev. Dr. David S. Barnard officiating. A celebration of life luncheon will take place Sunday, June 19, 2022 from 2:00 p.m. – 6:00 p.m. at the Pulteney Volunteer Fire Department, 8891 Brown Road, Pulteney, NY 14874.
In lieu of flowers, those wishing may contribute in his memory to the Pulteney Volunteer Fire Department, P.O. Box 33, Pulteney, N.Y. 14874 or the Humane Society of Yates County, P.O. Box 12, Penn Yann, N.Y. 14527. Envelopes for memorial contributions will be available at the funeral home.
The Bishop & DeSanto (formerly LaMarche) Funeral Home, 35 Main St., Hammondsport is honored to assist Junior's family with the arrangements.
To leave your own personal remembrance or condolence you may click on the link below or visit the Facebook page of Bishop-Johnson & DeSanto Funeral Home.
---
Online Remembrances
Doris (Zimmerman) Bacon says:
Gippy will be greatly missed, his smile and laugh and sense of humor. I remember Gippy with many great memories. Not only did I work in his vineyards for him from tying to picking grapes. He was a great person to have around. Weather he was at a Firemen's event of just out about town or at home he always was in a good mood and shared his good mood with others always. He is now with the love of his life and they will now get more time together.
Remember he will always be in your hearts and mind and he will for sure come and see you weather it is a cardinal or rainbow or that bright twinkling star or maybe a light breeze on your cheek, he will show he is watching over all of his family as Family was important to him!
many prayers for all his family!
Hugs Doris
---
Toni Hall Campbell says:
Sherri & family I will always remember your fathers smile. What a great life he lived. Hugs & prayers of condolences to you all
---
Bob/Lynn Domras says:
We send our condolences to ALL of Junior's family. Although it has been some years since we've spent time with "Gibby", it was always a pleasure whenever we'd meet him in the village to stop for a chat on the corner. We fondly remember the church events with both Gib & Gerry over the years. Along with MANY others, we will think of and miss Junior every time we drive by the longtime homestead whenever we are back in the Pulteney area. RIP, old friend!
---
Bishop-Johnson & DeSanto Funeral Home, Inc.
285 Main St., Hornell, NY 14843
(607) 324-2700
All rights reserved. This obituary is also archived at bishopdesanto.com
Bishop-Johnson & DeSanto Funeral Home, Inc.